Product Description
Detailed Photos
Product Description
MODEL
UH-5075-S
 UH-5075-HH
UH-5075-HV
UH-5075-HA
ITEM
Standard chain
Heavy-duty chain
Heavy-duty chain
Heavy-duty chain
Suspension Spacing
150+(150× N)
150+(150× N)
150+(150 × N)
150+(150 × N)
(mm)
Chain's Weight
4.2
4.58
4.83
5.3
(kg/m)
Single-span Weight
35
40
45
50
(≤kg)
Chain's Allowed
3000
3000
3000
3000
Pull Force (≤kgf)
Chain's Catastrophic
5500
5500
5500
5500
Pull Force (≥kgf)
Working temperature
 
300
 300
400
(≤°C)
250
Applicable Equipment
General conditions
Large bending;
High temperature;
High temperature;
High temperature;
Heavy work piece; 
Heavy work piece; 
 
Frequently lifted;
Complicated route;
Material
16# Medium-carbon steel, Steel A3
Remark: The above technical data is for our usual hanging type conveyors: UH-5S, UH-5HH, VH-5HA type. We can customize design and manufacture the products based customers particular requirements.
The overhead conveyor components including drop forged rivetless chain, drop forged overhead trolley,   drive chain, trolley attachment, side link pusher dog, rollers turn roller, enclosed track chain, free carrier trolley and so on.
We can also supply other conveyor and transmission parts to fit our customer's specific needs, including conveyor chain, stainless steel chain, cast chain, drop forged scraper chain, forged loop chain, bi-planar conveyor chain, sprockets, bearings, forged gear, special shaft, outboard roller assembly, conveyor roller, special brass parts and so on.
Main sizes are P101.6 Chain, P101.6H Chain, P142 chain, P142H Chain, P200 chain, P260 Chain and so on.
Our drop forged rivetless chain are most competitive and are of high quality. There are many items available. Please feel free to contact us.
 
FAQ
Q1: Are you trading company or manufacturer ?
A: We are factory.
Q2: How long is your delivery time and shipment?
1.Sample Lead-times: generally 30 workdays.
2.Production Lead-times: 60 workdays after getting your deposit.
Q3. What is your terms of payment?
A: T/T 30% as deposit, and 70% before delivery.
We'll show you the photos of the products and packages before you pay the balance.
Q4: What is your advantages?
1. Manufacturer,the most competitive price and good quality.
2. Perfect technical engineers give you the best support.
3. OEM is available.
4. Rich stock and quick delivery.
Q5. If you can't find the product on our website,what do you next?
Please send us inquiry with product pictures and drawings by email or other ways and we'll check
 
| | |
| --- | --- |
| Material: | Alloy |
| Structure: | Roller Chain |
| Surface Treatment: | Polishing |
| Chain Size: | 1/2"*3/32" |
| Feature: | Fire Resistant, Oil Resistant, Heat Resistant |
| Fuction: | Long Using Life |
Samples:

US$ 1/Piece

1 Piece(Min.Order)

|
Request Sample
Customization:

Available

|

Customized Request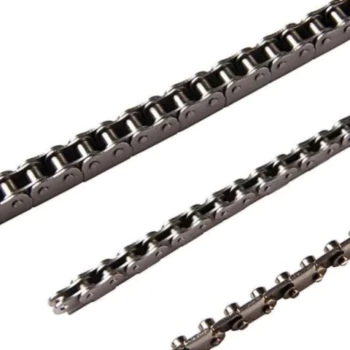 What are the advantages of using a lightweight drive chain?
Using a lightweight drive chain offers several advantages in certain applications where weight reduction is a critical factor. Here is a detailed explanation:
Lightweight drive chains are specifically designed to provide reliable power transmission while minimizing the overall weight of the system. The advantages of using such chains include:
Improved Energy Efficiency: Lightweight drive chains reduce the overall mass and inertia of the power transmission system. This results in improved energy efficiency, as less power is required to accelerate and decelerate the lighter components. Reduced energy consumption contributes to cost savings and promotes sustainability.
Enhanced System Performance: By reducing the weight of the drive chain, the overall system performance can be improved. The reduced mass allows for quicker response times, faster acceleration, and improved dynamic performance of the machinery or equipment. This can be particularly beneficial in applications that require rapid changes in speed or direction.
Increased Speed Capability: Lightweight drive chains enable higher speeds due to reduced inertia and decreased centrifugal forces. This allows for faster operation, quicker cycle times, and improved productivity in applications that demand high-speed power transmission.
Reduced Wear and Friction: The lighter weight of the drive chain can contribute to reduced wear and friction between the chain and the sprockets. With less weight bearing on the chain and sprocket teeth, there is reduced contact stress and improved lubrication distribution. This leads to lower frictional losses, decreased wear, and extended chain life.
Easier Installation and Maintenance: Lightweight drive chains are easier to handle and install compared to heavier chains, reducing the physical strain on operators during installation or maintenance tasks. The reduced weight simplifies handling and improves overall ergonomics, making it more convenient for operators to work with the chain.
Application Versatility: Lightweight drive chains can be used in a wide range of industries and applications where weight reduction is advantageous. They are commonly employed in sectors such as automotive, robotics, aerospace, and portable equipment, where lightweight components contribute to improved performance and fuel efficiency.
It is important to consider the specific requirements and constraints of the application when selecting a lightweight drive chain. Factors such as load capacity, speed capabilities, environmental conditions, and material selection should be taken into account.
While lightweight drive chains offer numerous benefits, it is crucial to ensure that their reduced weight does not compromise their load-carrying capacity or durability. Regular maintenance, including proper tensioning, lubrication, and periodic inspection, is essential to maintain the optimal performance and reliability of lightweight drive chains.
By utilizing lightweight drive chains in appropriate applications, operators can benefit from improved energy efficiency, enhanced system performance, increased speed capabilities, reduced wear and friction, easier installation and maintenance, and overall weight reduction, contributing to improved efficiency and performance of the power transmission system.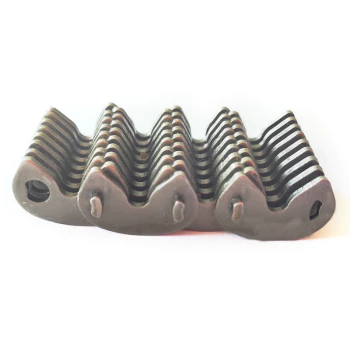 How does the elongation of a drive chain affect its performance?
The elongation of a drive chain can have a significant impact on its performance and overall operation. Here is a detailed explanation:
Drive chains are subject to wear and elongation over time due to factors such as load, speed, tension, lubrication, and maintenance. Elongation refers to the increase in the chain's pitch length, which can lead to several performance-related issues:
Loss of Tension: As a chain elongates, it loses tension and becomes slack. This results in a loss of power transmission efficiency and can lead to skipping or jumping of the chain on the sprockets. A slack chain may also cause a loss of accuracy and synchronization in driven systems.
Poor Performance: Elongation can affect the overall performance of the drive system. It can lead to increased backlash, reduced precision, and the potential for chain derailment or disengagement from the sprockets. These issues can result in decreased efficiency, unreliable operation, and increased risk of damage to the chain or other components.
Increased Wear: Elongation causes increased wear between the chain links, pins, and bushings. This wear can accelerate the elongation process and further decrease the chain's performance and service life. It can also lead to increased friction, heat generation, and the potential for chain failure if not addressed promptly.
Reduced Load-Carrying Capacity: Elongation reduces the effective pitch length of the chain, resulting in a decreased load-carrying capacity. This can limit the chain's ability to handle heavy loads, potentially leading to premature failure or inadequate performance in applications where high loads are involved.
Increased Noise and Vibration: Elongation can cause increased noise and vibration during chain operation. The slack chain may produce rattling or banging sounds, and the vibration can negatively affect the overall system performance and operator comfort.
Regular inspection and maintenance are essential to monitor chain elongation and address it promptly. Measuring elongation using specialized tools and following the manufacturer's recommended elongation limits can help determine when a chain requires replacement or adjustment.
Proper chain tension, lubrication, and regular maintenance practices, including periodic tension adjustment and lubrication replenishment, can help minimize elongation and ensure optimal chain performance. It is important to follow the manufacturer's guidelines and consult with experts or technicians to establish appropriate maintenance schedules and procedures for the specific drive chain and application.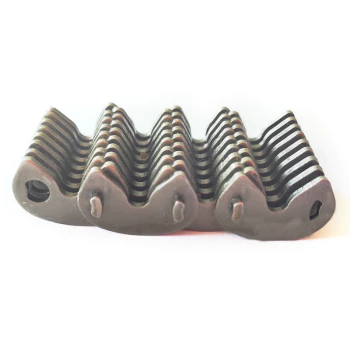 Can a drive chain be repaired or does it need to be replaced?
When a drive chain is damaged or worn, the extent of the issue determines whether it can be repaired or needs to be replaced. Here are some considerations:
A drive chain can be repaired in certain situations:
1. Individual Component Replacement: If only a few links, rollers, or plates are damaged or worn, it is possible to replace those specific components. This approach is more common with roller chains that have removable pins or quick-connect links.
2. Chain Shortening: In some cases, a drive chain may become too long due to elongation. If the elongation is within an acceptable limit and the remaining chain is in good condition, the chain can be shortened by removing links and reconnecting the ends.
However, in many instances, a worn or damaged drive chain needs to be replaced entirely:
1. Excessive Wear: If the chain has elongated beyond the manufacturer's recommended limit, shows widespread wear, or has significant damage to multiple components, it is best to replace the entire chain for optimal performance and safety.
2. Significant Damage: If the chain has suffered severe damage, such as breakage, deformation, or corrosion, it is generally safer and more practical to replace the chain rather than attempting repairs.
3. Maintenance Convenience: Drive chains require proper alignment, tension adjustment, and lubrication to function optimally. If the chain has been in use for a long time or requires frequent repairs, replacing it with a new chain may be more convenient and cost-effective in the long run.
It is important to assess the extent of the damage, consult the manufacturer's guidelines, and consider the cost, time, and safety implications before deciding whether to repair or replace a drive chain.



editor by CX 2023-07-28