Product Description
Products Collection
Product Description
One of the most compelling benefits of our QLP inverted tooth chain is its versatility and incredible durability. Whether you need a light-duty conveying or heavy-duty power transmission chain, the chain can be customised to meet your needs.
The chain is also corrosion-resistant. This means it can be used in harsh environments without worrying about rust or other types of damage. Its unique tooth shape reduces noise and vibration.
When you need a specific design, we can provide customised solutions based on what you need. Whether you require specific features, plans, materials, or specifications, our team can work to ensure you get a chain that fully meets your needs.
Are you looking for other chains? 
Leave your message below, and feel free to contact us!
FAQ
Question 1: Are you a Manufacturer or a Trading Company?
Answer:
We are a 100% chain manufacturer with 23 years of experience
Question 2: What should I provide to get a quotation?
Answer:
1. Type of the chain (with photos if available)
2. Pitch of the chain
3. Width of the chain
4. Length and quantity of the chain
5. Other specific requirements
Question 3:
How long is your manufacturing and delivery time?
Answer: 
Products are usually finished in 2 weeks, depending on the type and quantity. Also, please get in touch with us to check the delivery time to your destination.
Question 4: How long is your guaranteed time?
Answer: 
We offer a three-year guarantee if you purchase chains and matched sprockets together.
If you need chains only, a one-year guarantee can also be confirmed.
Question 5: Trade terms and Payment terms?
Answer:
We accept EXW, FOB, DDU, Door to Door. Payment terms, such as T/T, L/C, and Western Union, are acceptable. We also provide the service of Online Trading in this B2B platform.
Company Profile
Shipping Cost:

Estimated freight per unit.





To be negotiated
| | |
| --- | --- |
| Standard or Nonstandard: | Standard |
| Application: | Textile Machinery, Garment Machinery, Conveyer Equipment, Packaging Machinery, Food Machinery, Marine, Mining Equipment, Agricultural Machinery, Car |
| Structure: | Tooth Chain |
Samples:

US$ 100/Meter

1 Meter(Min.Order)

|

Order Sample
Customization:

Available

|

Customized Request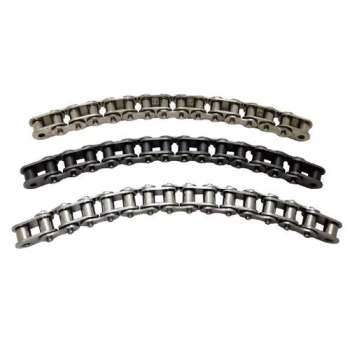 How does the lubricant selection affect the performance of a drive chain?
The selection of the proper lubricant plays a critical role in the performance and longevity of a drive chain. Here is a detailed explanation:
Lubrication is essential for maintaining the smooth operation and reducing the wear and friction between the chain's moving parts. The lubricant creates a protective film that reduces metal-to-metal contact and prevents excessive heat generation. The lubricant selection affects the drive chain's performance in the following ways:
Reduced Friction and Wear: The primary function of lubrication is to reduce friction between the chain's components. A well-chosen lubricant minimizes metal-to-metal contact, reducing wear and extending the chain's lifespan. It helps to prevent premature failure and ensures the efficient transfer of power throughout the chain.
Enhanced Load Capacity: Proper lubrication reduces the stress on the chain by creating a lubricating film that cushions the contact between the pins, bushings, and rollers. This improves the chain's load-carrying capacity, allowing it to handle heavier loads and resist elongation or deformation under high loads.
Corrosion Protection: Some lubricants are formulated with additives that provide corrosion protection. These lubricants create a barrier that shields the chain from moisture, chemicals, and environmental contaminants, reducing the risk of corrosion and extending the chain's life in harsh or corrosive environments.
Temperature Stability: Different lubricants have varying temperature ranges in which they can effectively perform. The lubricant selection should consider the operating temperatures of the application. High-temperature lubricants are designed to withstand elevated temperatures without breaking down or evaporating, ensuring proper lubrication even in hot environments.
Reduced Noise and Vibration: Proper lubrication contributes to smoother and quieter chain operation. It helps to minimize noise and vibration caused by metal-to-metal contact, resulting in a quieter working environment and improved operator comfort.
Contamination Control: Lubricants can also play a role in controlling contaminants that may enter the chain system. Some lubricants have properties that resist the accumulation of dust, dirt, or other particles, helping to keep the chain clean and preventing abrasive wear.
The lubricant selection should consider various factors, including the application's operating conditions, load requirements, temperature range, speed, and compatibility with the chain material. Manufacturers often provide lubrication recommendations based on these factors.
Regular lubrication maintenance is essential to ensure the continued performance of the drive chain. Lubrication intervals should be followed, and the lubricant should be replenished or replaced as recommended by the manufacturer or based on inspection and monitoring of the chain's condition.
By selecting the appropriate lubricant and implementing proper lubrication practices, operators can ensure optimal chain performance, reduce wear and friction, extend chain life, and minimize maintenance requirements in various industrial applications.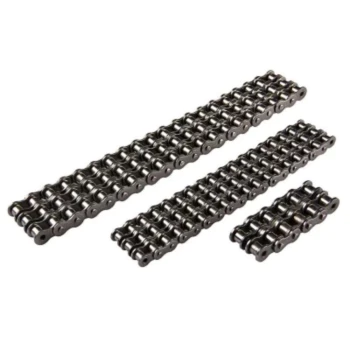 How does the weight of a drive chain affect its performance?
The weight of a drive chain can have some impact on its performance, although it is generally not a significant factor. Here is a detailed explanation:
The weight of a drive chain refers to the mass of the chain itself. While the weight of the chain may vary depending on its size, type, and material, it is typically not a critical consideration in most applications. Here are a few points to understand about the weight of a drive chain:
Inertia: The weight of the drive chain contributes to its inertia, which is the resistance to changes in motion. In high-speed or dynamic applications, such as robotics or automation, excessive chain weight can increase inertia and potentially affect the responsiveness and precision of the system. However, the weight of the chain is usually relatively small compared to other components in the system, and the impact on performance is often minimal.
Tension and Tensioning Mechanisms: The weight of the chain can influence the tensioning requirements and the design of tensioning mechanisms. Heavier chains may require stronger tensioning systems to maintain proper tension and prevent chain slack. It is essential to consider the weight of the chain when designing and implementing tensioning mechanisms to ensure optimal performance.
Load Capacity: The weight of the chain itself does not significantly affect the load capacity or strength of the chain. The load capacity is determined by the chain's design, material, and construction. Proper chain selection based on the specific application requirements is necessary to ensure sufficient load-carrying capacity.
Installation and Handling: The weight of the chain can influence the ease of installation and handling, especially in larger or heavier chains. Proper lifting and handling equipment should be used to ensure safe installation and prevent injuries.
Overall, while the weight of a drive chain can have some minor influence on its performance in certain applications, it is typically not a critical factor. Factors such as chain design, material, lubrication, tension, and alignment have a more significant impact on the overall performance and reliability of the drive chain.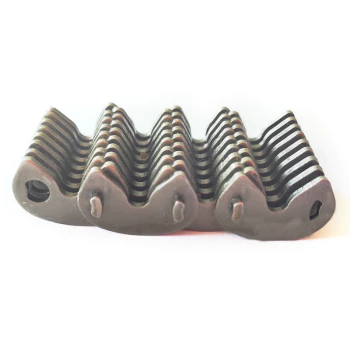 Can a drive chain be repaired or does it need to be replaced?
When a drive chain is damaged or worn, the extent of the issue determines whether it can be repaired or needs to be replaced. Here are some considerations:
A drive chain can be repaired in certain situations:
1. Individual Component Replacement: If only a few links, rollers, or plates are damaged or worn, it is possible to replace those specific components. This approach is more common with roller chains that have removable pins or quick-connect links.
2. Chain Shortening: In some cases, a drive chain may become too long due to elongation. If the elongation is within an acceptable limit and the remaining chain is in good condition, the chain can be shortened by removing links and reconnecting the ends.
However, in many instances, a worn or damaged drive chain needs to be replaced entirely:
1. Excessive Wear: If the chain has elongated beyond the manufacturer's recommended limit, shows widespread wear, or has significant damage to multiple components, it is best to replace the entire chain for optimal performance and safety.
2. Significant Damage: If the chain has suffered severe damage, such as breakage, deformation, or corrosion, it is generally safer and more practical to replace the chain rather than attempting repairs.
3. Maintenance Convenience: Drive chains require proper alignment, tension adjustment, and lubrication to function optimally. If the chain has been in use for a long time or requires frequent repairs, replacing it with a new chain may be more convenient and cost-effective in the long run.
It is important to assess the extent of the damage, consult the manufacturer's guidelines, and consider the cost, time, and safety implications before deciding whether to repair or replace a drive chain.



editor by CX 2023-08-11