Product Description
Product Description
There are Double Pitch Transmission Chains with a Straight Plate.
The major material is SUS304, SUS310, and SUS316. They have the characteristics of high strength, high wear resistance, and long life.
HangZhou CZPT Machinery Chain Transmission Co., Ltd is a professional manufacturer of roller chains. There are 2 main categories: Stainless steel chain and carbon steel chain.
All the chain assembly technique indexes conform to the standards of ISO9001: 2008 and GB/T19001-2000idt.
We have established a nationwide sales network and the products have been sold to the countries and regions in Europe and America, Central and South Africa as well as South-east Asia, which are quite popular among customers.
Product Parameter
| | |
| --- | --- |
| Product Name | Heavy-Duty Cranked-Link Conveyor Chains |
| Standard | GB, ISO, ANSI, DIN |
| Pitch | 63.50~152.40mm |
| Material | Carbon steel, Alloy, Stainless Steel |
| Surface Treatment | Heat treatment/Sand-blasted/Shot-peening |
| Certifications | ISO9001:2015, GB/T19001-2016, ISO1400:2015 |
| Tensile Strength | High strength |
| Packaging | Plastic Bag+ Carton+Wooden Case |
| Application | Industry Machinery |
Advantage
More Products

DETAILS ABOUT CZPT CHAIN 
Certifications
Workshop
Exhibition
Packaging Details & Shipping
FAQ
1. Are you a manufacturer or trade Company?
We are a factory founded in 1997 with a trade team for international service.
2. What terms of payment do you usually use?
T/T 30% deposit and 70% against document, Western Union, L/C at sight
3. What is your lead time for your goods?
Normally 35 days after confirmed order. 30 days could be available in the low season for some items (during May to July), and 45 days during the new year and hot season ( Jan to March).
4. Samples
For customers who need sample confirmation before ordering, please bear in mind that the following policy will be adopted:
1) All samples are free of charge with a maximum value not exceeding USD 100.
2) The courier cost for the first-time sample sending will be charged by the consignee. We will send the samples with freight to be collected. So please inform your account with FedEx, UPS, DHL, or TNT so that we can proceed promptly.
3) The first-time courier cost will be deducted from the contract value of the trial cooperation.
| | |
| --- | --- |
| Standard or Nonstandard: | Nonstandard |
| Application: | Textile Machinery, Garment Machinery, Conveyer Equipment, Packaging Machinery, Electric Cars, Motorcycle, Food Machinery, Marine, Mining Equipment, Agricultural Machinery, Car |
| Surface Treatment: | Polishing |
| Structure: | Welded Chain |
| Material: | Stainless Steel |
| Type: | Cranked Link Chain |
Customization:

Available

|

Customized Request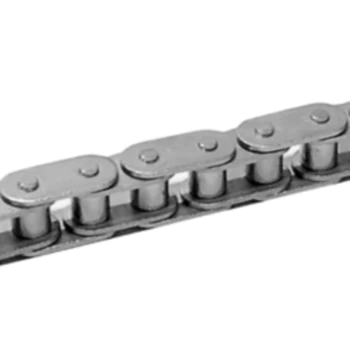 Can a drive chain be used in a glass or ceramics manufacturing application?
Yes, a drive chain can be used in glass or ceramics manufacturing applications where reliable and efficient power transmission is required. Here is a detailed explanation:
In glass or ceramics manufacturing, various types of equipment and machinery are utilized for processes such as mixing, molding, shaping, drying, and firing. Drive chains offer several advantages in these applications:
High Load Capacity: Drive chains are known for their high load-carrying capacity, making them suitable for handling heavy loads and transmitting power in glass or ceramics manufacturing equipment. They can effectively transmit power to drive mechanisms involved in mixing blades, conveyor systems, kilns, and other equipment.
Precision Power Transmission: Drive chains provide precise power transmission, ensuring accurate and synchronized movement of the machinery and equipment in glass or ceramics manufacturing. This allows for reliable and efficient production processes, precise positioning, and synchronized operation of the various components.
Robustness and Durability: Glass or ceramics manufacturing environments can be demanding, with high temperatures, abrasive materials, and heavy-duty operations. Drive chains are designed to withstand these harsh conditions, providing durability, resistance to wear, and long service life, even in high-demand applications.
Flexibility and Adaptability: Drive chains offer flexibility and adaptability in designing and configuring the machinery and equipment used in glass or ceramics manufacturing. They can be easily integrated into different types of conveyors, mixers, kilns, and other equipment, allowing for smooth and efficient material flow and process control.
Compatibility with Auxiliary Components: Drive chains can be easily combined with auxiliary components commonly used in glass or ceramics manufacturing, such as tensioners, guides, sprockets, and bearings. This ensures reliable and efficient power transmission throughout the entire system and facilitates easy maintenance and replacement when necessary.
Cost-Effectiveness: Drive chains offer a cost-effective solution for power transmission in glass or ceramics manufacturing applications. They have a long service life, reduced maintenance requirements, and lower replacement costs compared to some alternative power transmission systems.
It is important to consider the specific requirements of the glass or ceramics manufacturing application when selecting a drive chain. Factors such as load capacity, speed, environmental conditions, and maintenance considerations should be taken into account.
Regular maintenance, including inspection, lubrication, and tension adjustment, is crucial to ensure optimal performance and longevity of the drive chain in glass or ceramics manufacturing applications.
By utilizing drive chains in glass or ceramics manufacturing, operators can benefit from high load capacity, precise power transmission, durability, adaptability, and cost-effectiveness, contributing to efficient and reliable manufacturing processes.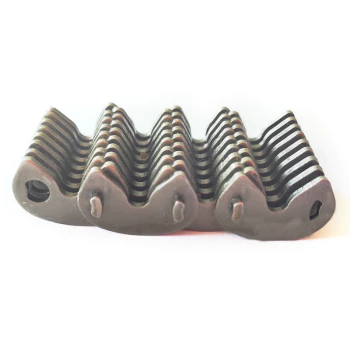 How does the elongation of a drive chain affect its performance?
The elongation of a drive chain can have a significant impact on its performance and overall operation. Here is a detailed explanation:
Drive chains are subject to wear and elongation over time due to factors such as load, speed, tension, lubrication, and maintenance. Elongation refers to the increase in the chain's pitch length, which can lead to several performance-related issues:
Loss of Tension: As a chain elongates, it loses tension and becomes slack. This results in a loss of power transmission efficiency and can lead to skipping or jumping of the chain on the sprockets. A slack chain may also cause a loss of accuracy and synchronization in driven systems.
Poor Performance: Elongation can affect the overall performance of the drive system. It can lead to increased backlash, reduced precision, and the potential for chain derailment or disengagement from the sprockets. These issues can result in decreased efficiency, unreliable operation, and increased risk of damage to the chain or other components.
Increased Wear: Elongation causes increased wear between the chain links, pins, and bushings. This wear can accelerate the elongation process and further decrease the chain's performance and service life. It can also lead to increased friction, heat generation, and the potential for chain failure if not addressed promptly.
Reduced Load-Carrying Capacity: Elongation reduces the effective pitch length of the chain, resulting in a decreased load-carrying capacity. This can limit the chain's ability to handle heavy loads, potentially leading to premature failure or inadequate performance in applications where high loads are involved.
Increased Noise and Vibration: Elongation can cause increased noise and vibration during chain operation. The slack chain may produce rattling or banging sounds, and the vibration can negatively affect the overall system performance and operator comfort.
Regular inspection and maintenance are essential to monitor chain elongation and address it promptly. Measuring elongation using specialized tools and following the manufacturer's recommended elongation limits can help determine when a chain requires replacement or adjustment.
Proper chain tension, lubrication, and regular maintenance practices, including periodic tension adjustment and lubrication replenishment, can help minimize elongation and ensure optimal chain performance. It is important to follow the manufacturer's guidelines and consult with experts or technicians to establish appropriate maintenance schedules and procedures for the specific drive chain and application.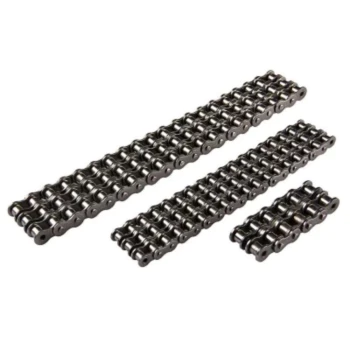 What is a drive chain and how does it work?
A drive chain is a mechanical component used to transmit power from one part of a machine or system to another. It typically consists of a series of interconnected links or rollers that form a flexible and durable mechanism. Drive chains are commonly used in various applications, including bicycles, motorcycles, industrial machinery, and automotive systems.
The working principle of a drive chain involves the transfer of rotational motion or power from a driving sprocket or gear to a driven sprocket or gear. Here is a step-by-step explanation of how a typical drive chain works:
The driving force is applied to the first component of the drive chain, usually a sprocket.
As the driving sprocket rotates, it engages with the links or rollers of the chain.
The driving force is transferred from the driving sprocket to the chain links or rollers.
The chain links or rollers transmit the rotational motion to the driven sprocket.
The driven sprocket, connected to the driven component, rotates and transfers the power to the intended mechanism, such as wheels or other moving parts.
The efficiency and performance of a drive chain depend on factors such as the quality of the components, proper lubrication, tension adjustment, and maintenance. It is crucial to ensure the chain is properly aligned and tensioned to minimize wear and maximize power transfer.
Overall, drive chains play a vital role in power transmission by efficiently transferring rotational motion from one component to another, enabling the operation of various mechanical systems.



editor by CX 2023-08-04