Product Description
Item
Standard Transmission Roller Chains
Model
Series A, Series B, Heavy Duty
Row
Simplex/Duplex/Triplex
Application
Machinery Parts
Surface Teatment
Self-color/Sand-blasted/Shot-peening
Brand
OEM
Package
Poly bag, then box, finally poly-wooden case
Port
Any sea port or airport in China
A Series
03C,04C-1,06C-1,085-1,08A-1,10A-1,12A-1,16A-1,20A-1,24A-1,28A-1,32A-1,36A-1,40A-1,48A-1. 15,25-1,35-1,41-1,40-1,50-1,60-1,80-1,100-1,120-1,140-1,160-1,180-1,200-1,240-1.
04C-2,06C-2,085-2,08A-2,10A-2,12A-2,16A-2,20A-2,24A-2,28A-2,32A-2,36A-2,40A-2,48A-2. 15,25-2,35-2,41-2,40-2,50-2,60-2,80-2,100-2,120-2,140-2,160-2,180-2,200-2,240-2.
04C-3,06C-3,085-3,08A-3,10A-3,12A-3,16A-3,20A-3,24A-3,28A-3,32A-3,36A-3,40A-3,48A-3. 15,25-3,35-3,41-3,40-3,50-3,60-3,80-3,100-3,120-3,140-3,160-3,180-3,200-3,240-3.
B Series
05B-1,06B-1,08B-1,10B-1,12B-1,16B-1,20B-1,24B-1,28B-1,32B-1,40B-1,48B-1,56B-1,64B-1,72B-1.
05B-2,06B-2,08B-2,10B-2,12B-2,16B-2,20B-2,24B-2,28B-2,32B-2,40B-2,48B-2,56B-2,64B-2,72B-2.
05B-3,06B-3,08B-3,10B-3,12B-3,16B-3,20B-3,24B-3,28B-3,32B-3,40B-3,48B-3,56B-3,64B-3,72B-3.
Heavy Duty Type
35H-1,40H-1,50H-1,60H-1,80H-1,100H-1,120H-1,140H-1,160H-1,180H-1,200H-1,240H-1.
35H-2,40H-2,50H-2,60H-2,80H-2,100H-2,120H-2,140H-2,160H-2,180H-2,200H-2,240H-2.
35H-3,40H-3,50H-3,60H-3,80H-3,100H-3,120H-3,140H-3,160H-3,180H-3,200H-3,240H-3.
| | |
| --- | --- |
| Standard or Nonstandard: | Standard |
| Application: | Textile Machinery, Garment Machinery, Conveyer Equipment, Packaging Machinery, Motorcycle, Food Machinery, Marine, Mining Equipment, Agricultural Machinery, Car |
| Surface Treatment: | Polishing |
| Structure: | Roller Chain |
| Material: | Carbon Steel/Stainless Steel |
| Type: | Short Pitch Chain |
Samples:

US$ 5/Several Links

1 Several Links(Min.Order)

|
Request Sample
Customization:

Available

|

Customized Request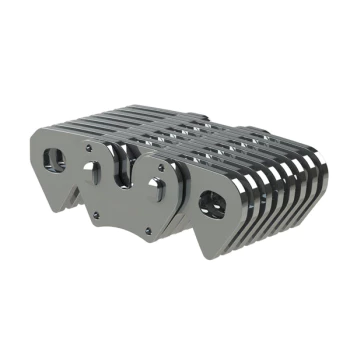 Can a drive chain be used in a HVAC or ventilation system?
Yes, a drive chain can be used in HVAC (Heating, Ventilation, and Air Conditioning) or ventilation systems where reliable and efficient power transmission is required. Here is a detailed explanation:
HVAC and ventilation systems utilize various components such as fans, blowers, dampers, and louvers to control air flow, temperature, and humidity in residential, commercial, and industrial buildings. Drive chains offer several advantages in these applications:
Reliable Power Transmission: Drive chains provide reliable power transmission for HVAC and ventilation systems. They are capable of transmitting power over long distances, accommodating various speeds and torque requirements, and operating in different directions of rotation.
Flexible System Design: Drive chains offer flexibility in system design and layout. They can be easily configured to connect and drive multiple components, such as fans, motors, and dampers, allowing for efficient control and adjustment of air flow and system performance.
Accurate Speed Control: Drive chains allow for precise speed control in HVAC systems. By using sprockets of different sizes or incorporating variable speed drives, the rotational speed of fans or blowers can be adjusted to achieve the desired air flow rates and maintain optimal environmental conditions.
High Load Capacity: HVAC and ventilation systems often require components to handle significant air volumes and pressure differentials. Drive chains are designed to handle high loads and transmit power effectively, ensuring reliable operation of fans, blowers, and other equipment.
Durability and Longevity: Drive chains are engineered to withstand the demanding conditions of HVAC and ventilation systems. They are designed to resist wear, corrosion, and fatigue, ensuring durability and long service life even in continuous or high-cycle operations.
Quiet Operation: Drive chains, when properly lubricated and maintained, can operate quietly in HVAC systems, minimizing noise and vibration levels. This is crucial for maintaining a comfortable and noise-free environment in residential, commercial, or institutional settings.
When selecting a drive chain for HVAC or ventilation applications, factors such as load capacity, speed requirements, environmental conditions (such as temperature and humidity), and maintenance considerations should be taken into account.
Regular inspection, lubrication, and tension adjustment are important for ensuring the optimal performance and longevity of the drive chain in HVAC and ventilation systems.
By utilizing drive chains in HVAC and ventilation systems, operators can benefit from reliable power transmission, flexible system design, accurate speed control, high load capacity, durability, longevity, and quiet operation, contributing to efficient and effective air conditioning and ventilation in various building environments.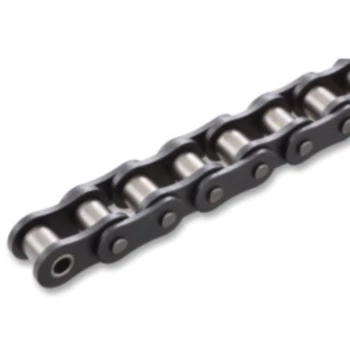 How does the backlash or play in a drive chain affect its performance?
The presence of backlash or play in a drive chain can have a significant impact on its performance and overall operation. Here is a detailed explanation:
Backlash or play refers to the small amount of free movement or clearance between the engaged components of a drive chain, typically between the chain and the sprockets. This clearance can lead to several performance-related issues:
Reduced Accuracy: Backlash can cause a loss of accuracy and precision in the positioning and movement of the driven components. The presence of free play can result in inconsistent positioning, leading to inaccuracies in machine operations or product quality.
Loss of Power and Efficiency: Backlash causes a loss of power transmission efficiency. As the chain engages with the sprockets, any free movement or clearance reduces the effective transfer of power, resulting in decreased efficiency and potential energy loss.
Vibration and Noise: Backlash can lead to vibration and noise during operation. The free movement of the chain can cause rattling, knocking, or banging sounds, as well as vibration, which can affect the overall system performance and operator comfort.
Potential for Chain Skipping or Jumping: Excessive backlash can cause the chain to skip or jump on the sprockets, leading to interrupted or irregular power transmission. This can result in sudden jerks, misalignment, or even chain derailment, affecting the overall system performance and potentially causing damage to the chain or other components.
Decreased System Response: Backlash affects the responsiveness of the system. When there is excessive play, the system may not respond quickly or accurately to changes in input or commands. This can be problematic in applications requiring precise and immediate movement or control.
To mitigate the negative effects of backlash, it is important to minimize or control the clearance within the drive chain system. This can be achieved through proper chain tensioning, sprocket alignment, and the use of anti-backlash devices or mechanisms.
Regular inspection and maintenance are crucial to identify and address any excessive backlash in the drive chain. Maintaining proper tension, lubrication, and periodically checking and adjusting the sprocket alignment can help minimize the backlash and ensure optimal chain performance.
It is essential to consult with the manufacturer's guidelines and recommendations for the specific drive chain system to determine the acceptable levels of backlash and the appropriate measures to reduce its impact on performance.
By minimizing backlash or play in a drive chain, operators can ensure accurate power transmission, improved efficiency, reduced noise, and vibration, ultimately leading to better overall system performance and productivity.



editor by CX 2023-09-25