Product Description
Products Collection
Product Description
QLZ Chains feature symmetrically toothed link plates on both sides, enabling equal performance and precision during bilateral use. This design makes it an ideal solution for applications with changes in the direction of rotation or for multi-shaft drives. Their flexibility ensures they can easily handle these situations, providing reliable and consistent performance.
When you need a specific design, we can provide customised solutions based on what you need. Whether you require specific features, plans, materials, or specifications, our team can work to ensure you get a chain that fully meets your needs.
Are you looking for other chains? 
Leave your message below, and feel free to contact us!
FAQ
Question 1: Are you a Manufacturer or a Trading Company?
Answer:
We are a 100% chain manufacturer with 23 years of experience
Question 2: What should I provide to get a quotation?
Answer:
1. Type of the chain (with photos if available)
2. Pitch of the chain
3. Width of the chain
4. Length and quantity of the chain
5. Other specific requirements
Question 3:
How long is your manufacturing and delivery time?
Answer: 
Products are usually finished in 2 weeks, depending on the type and quantity. Also, please get in touch with us to check the delivery time to your destination.
Question 4: How long is your guaranteed time?
Answer: 
We offer a three-year guarantee if you purchase chains and matched sprockets together.
If you need chains only, a one-year guarantee can also be confirmed.
Question 5: Trade terms and Payment terms?
Answer:
We accept EXW, FOB, DDU, Door to Door. Payment terms, such as T/T, L/C, and Western Union, are acceptable. We also provide the service of Online Trading in this B2B platform.
Company Profile
Shipping Cost:

Estimated freight per unit.





To be negotiated
| | |
| --- | --- |
| Standard or Nonstandard: | Standard |
| Application: | Textile Machinery, Garment Machinery, Conveyer Equipment, Packaging Machinery, Food Machinery, Marine, Mining Equipment, Agricultural Machinery, Car |
| Structure: | Tooth Chain |
Samples:

US$ 100/Meter

1 Meter(Min.Order)

|

Order Sample
Customization:

Available

|

Customized Request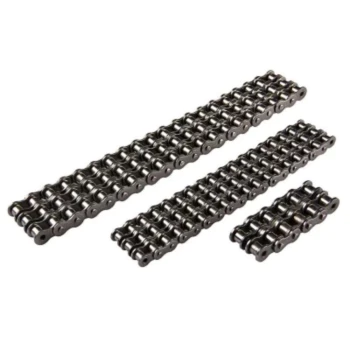 Can a drive chain be used in a printing press or bindery application?
Yes, a drive chain can be used in a printing press or bindery application where precise and reliable power transmission is required. Here is a detailed explanation:
Printing presses and bindery equipment involve complex machinery that requires the efficient transfer of power to perform various functions such as paper feeding, cutting, folding, and binding. Drive chains offer several advantages in these applications:
Precision and Synchronization: Drive chains provide accurate and synchronized power transmission, allowing precise control over the movement of the printing press or bindery equipment. The interlocking design of the chain and sprockets ensures consistent and reliable performance, enabling precise registration of paper and precise execution of operations.
High Load Capacity: Printing presses and bindery equipment often handle large volumes of paper or materials, requiring a drive system capable of handling high loads. Drive chains are designed to withstand high load capacities, ensuring reliable power transmission and the ability to handle the demanding requirements of these applications.
Smooth and Quiet Operation: Drive chains, when properly lubricated and maintained, provide smooth and quiet operation. This is crucial in printing and bindery applications where noise reduction is desired to create a comfortable working environment and minimize disturbances during operation.
Reliability and Durability: Drive chains are known for their durability and reliability. They are designed to withstand continuous operation and the demands of high-speed printing and bindery processes. With proper maintenance, including lubrication and periodic inspection, drive chains can provide long service life, reducing downtime and maintenance costs.
Compatibility with Variable Speeds: Printing presses and bindery equipment often require variable speeds to accommodate different printing or bindery processes. Drive chains can be easily integrated with variable speed drives, allowing precise control over the equipment's speed and accommodating the specific requirements of each printing or bindery task.
Compact Design: Drive chains offer a compact and space-efficient solution for power transmission in printing presses and bindery equipment. The chain's flexible design allows it to navigate around tight spaces and complex machine layouts, enabling efficient utilization of available space.
Customizability: Drive chains can be customized to meet the specific requirements of printing press and bindery applications. They can be designed with different pitches, widths, and attachments to suit the unique needs of each machine and its respective processes.
When selecting a drive chain for a printing press or bindery application, factors such as speed, load capacity, space limitations, and compatibility with the printing or bindery processes should be considered. It is essential to follow the manufacturer's recommendations regarding installation, lubrication, and maintenance to ensure optimal performance and longevity of the drive chain.
By utilizing drive chains in printing presses and bindery equipment, operators can benefit from precise power transmission, high load capacity, smooth operation, reliability, durability, compatibility with variable speeds, compact design, and customization options, contributing to efficient and high-quality printing and bindery processes.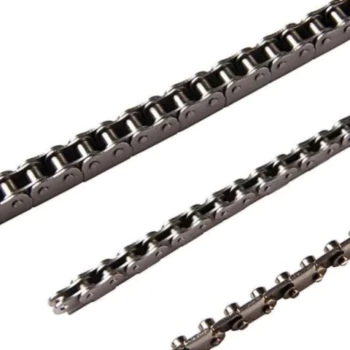 Can a drive chain be used in a power generation system?
Yes, a drive chain can be used in certain types of power generation systems as a method of power transmission. Here is a detailed explanation:
In power generation systems, the purpose is to convert a primary energy source into electrical power. While drive chains are not commonly used in large-scale power generation applications like turbines or generators, they can be employed in specific scenarios, such as:
Small-Scale Power Generation: In small-scale power generation systems, such as micro-hydropower or wind turbines, drive chains can be utilized to transmit rotational motion from the turbine or rotor to a generator. The chain connects the rotating components, ensuring efficient power transmission.
Linkage Mechanisms: Drive chains can be used in mechanical linkage mechanisms within power generation systems to transmit motion or force between various components. These mechanisms can be found in applications such as valve control systems, fuel feeders, or governor systems.
Ancillary Devices: Drive chains may also be employed in ancillary devices within power generation systems, such as tensioners, clutches, or braking mechanisms.
It's important to note that the selection and application of drive chains in power generation systems require careful consideration of factors such as load, speed, torque, and environmental conditions. Additionally, regular maintenance, including inspection, lubrication, and tension adjustment, is crucial to ensure optimal performance and longevity of the drive chain in these applications.
While drive chains have their applications in power generation systems, it is essential to consult with experts or manufacturers to determine the most suitable and efficient power transmission method for a specific power generation setup.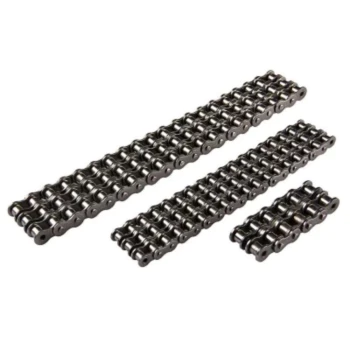 What are the noise and vibration levels associated with a drive chain?
The noise and vibration levels associated with a drive chain can vary depending on several factors, including the type of chain, operating conditions, and maintenance practices. Here's an explanation:
Noise Levels:
Drive chains, especially roller chains, can generate noise during operation. The noise level depends on various factors, such as the chain's design, speed, tension, lubrication, and the condition of the sprockets.
Proper lubrication helps reduce friction and noise generation, while inadequate or dry lubrication can increase noise levels.
Other factors, such as misalignment, worn-out components, or loose fittings, can contribute to increased noise levels. Regular inspections and maintenance help identify and address sources of excessive noise.
Vibration Levels:
Drive chains can produce vibrations during operation, especially if there are issues such as misalignment, improper tension, or worn-out components.
Proper tensioning, alignment, and maintenance practices help minimize vibrations and ensure smooth operation.
Excessive vibrations can lead to accelerated wear, reduced chain life, and potential damage to other components.
It's worth noting that advancements in chain design and manufacturing techniques have resulted in quieter and smoother-running chains. Manufacturers may also offer specialized low-noise or low-vibration chains for applications where noise or vibration reduction is a priority.
To maintain acceptable noise and vibration levels associated with a drive chain, it is important to follow proper maintenance practices, including regular lubrication, tension adjustment, and alignment checks. Additionally, addressing any sources of excessive noise or vibration promptly can help ensure the smooth and efficient operation of the drive chain.



editor by CX 2023-09-13