Product Description
Product Description
Carbon Steel Roller Chain for Machines
Item
Carbon Steel Roller Chain
Model
Series A, Series B, Heavy Duty
Standard
 ISO /DIN /ANSI
Material
Carbon steel 40Mn
Surface Teatment
Self-color/Sand-blasted/Shot-peening
Heat treatment
All parts are quenching and tempering
Certificate of Quality
ISO 9001: 2000, SGS
Brand
OEM
A Series
03C,04C-1,06C-1,085-1,08A-1,10A-1,12A-1,16A-1,20A-1,24A-1,28A-1,32A-1,36A-1,40A-1,48A-1,25-1,35-1,41-1,40-1,50-1,60-1,80-1,100-1,120-1,140-1,160-1,180-1,200-1,240-1.
04C-2,06C-2,085-2,08A-2,10A-2,12A-2,16A-2,20A-2,24A-2,28A-2,32A-2,36A-2,40A-2,48A-2,25-2,35-2,41-2,40-2,50-2,60-2,80-2,100-2,120-2,140-2,160-2,180-2,200-2,240-2.
04C-3,06C-3,085-3,08A-3,10A-3,12A-3,16A-3,20A-3,24A-3,28A-3,32A-3,36A-3,40A-3,48A-3,25-3,35-3,41-3,40-3,50-3,60-3,80-3,100-3,120-3,140-3,160-3,180-3,200-3,240-3.
B Series
05B-1,06B-1,08B-1,10B-1,12B-1,16B-1,20B-1,24B-1,28B-1,32B-1,40B-1,48B-1,56B-1,64B-1,72B-1.
05B-2,06B-2,08B-2,10B-2,12B-2,16B-2,20B-2,24B-2,28B-2,32B-2,40B-2,48B-2,56B-2,64B-2,72B-2.
05B-3,06B-3,08B-3,10B-3,12B-3,16B-3,20B-3,24B-3,28B-3,32B-3,40B-3,48B-3,56B-3,64B-3,72B-3.
Heavy Duty Type
35H-1,40H-1,50H-1,60H-1,80H-1,100H-1,120H-1,140H-1,160H-1,180H-1,200H-1,240H-1.
35H-2,40H-2,50H-2,60H-2,80H-2,100H-2,120H-2,140H-2,160H-2,180H-2,200H-2,240H-2.
35H-3,40H-3,50H-3,60H-3,80H-3,100H-3,120H-3,140H-3,160H-3,180H-3,200H-3,240H-3.
Workshop
Advantages:
1) Mainly products including: Roller chain, Bush chain,  Motorcyle chain, Leaf chain, Hollow pin chain, Welded steel chain,  Block chain, Engineering chain, Agricultural chain.
2) 80% of our products are exported to Europe and USA, serving customers of top players of their industries;  
3) Advanced production equipment, High precision die & mold equipment, and Excellent testing devices. 
Packaging & Shipping
Polybag + Box + Carton box
FAQ
Why choose us
1. We are the manufacture.
2. We have 30 years experience of making chains and chain links.
3. Our design team has extensive experience in the chain design.
4. Best service and prompt delivery.
5. We offer various styles, size and colors to meet your requirement.
 
| | |
| --- | --- |
| Standard or Nonstandard: | Standard |
| Application: | Textile Machinery, Garment Machinery, Conveyer Equipment, Packaging Machinery, Electric Cars, Motorcycle, Food Machinery, Marine, Mining Equipment, Agricultural Machinery |
| Structure: | Roller Chain |
| Material: | Carbon Steel |
| Type: | Short Pitch Chain |
| Standard: | GB, ISO, ANSI, DIN, Ect. |
Samples:

US$ 1/Foot

1 Foot(Min.Order)

|
Request Sample
Customization:

Available

|

Customized Request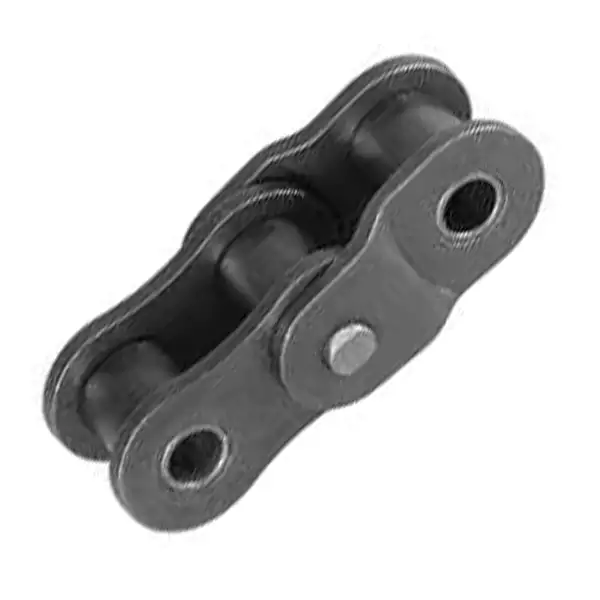 How does the alignment of sprockets affect the performance of a drive chain?
The alignment of sprockets is critical for ensuring the optimal performance and longevity of a drive chain. Here is a detailed explanation:
The alignment of sprockets directly affects the following aspects of a drive chain's performance:
Smooth Power Transmission: Proper alignment of sprockets ensures the smooth engagement and disengagement of the chain with the sprocket teeth. When the sprockets are aligned correctly, the chain articulates smoothly, minimizing friction, wear, and noise. This promotes efficient power transmission and prevents premature chain failure.
Reduced Wear and Elongation: Misaligned sprockets can cause uneven loading on the chain, leading to accelerated wear and elongation. When the sprockets are aligned, the chain experiences equal forces on all links, resulting in more uniform wear distribution and reducing the risk of chain elongation. Proper alignment helps maintain the chain's pitch and overall length, ensuring consistent power transmission and extending the chain's service life.
Minimized Side Loads: Misaligned sprockets can create side loads on the chain, causing it to run at an angle or contact the side plates excessively. This leads to increased friction, wear, and stress on the chain components. Proper alignment reduces these side loads, allowing the chain to run smoothly and minimizing unnecessary wear and stress on the chain's components.
Prevention of Chain Skipping or Jumping: Misaligned sprockets can cause the chain to skip or jump teeth, resulting in loss of power transmission, erratic operation, and potential damage to the chain and sprockets. Proper alignment ensures that the chain remains engaged with the sprocket teeth, preventing any skipping or jumping and ensuring reliable power transmission.
Optimal Tension Distribution: Properly aligned sprockets contribute to the even distribution of chain tension. When the sprockets are aligned, the tension is evenly distributed along the chain, reducing the risk of localized stress points and chain elongation. This helps maintain consistent tension, improves power transmission efficiency, and extends the life of the chain and sprockets.
To achieve proper sprocket alignment, it is important to ensure that the sprockets are mounted securely, aligned parallel to each other, and positioned at the correct distance apart. Additionally, the sprockets should have the appropriate tooth profile and pitch diameter to match the chain's specifications.
Regular inspection and maintenance are essential to verify and maintain sprocket alignment. This includes checking for signs of wear, damage, or misalignment, as well as periodically adjusting the tension and lubricating the chain as needed.
By ensuring the proper alignment of sprockets, operators can achieve smooth power transmission, reduced wear, minimized side loads, prevention of chain skipping, and optimal tension distribution. This ultimately improves the performance, efficiency, and reliability of the drive chain system.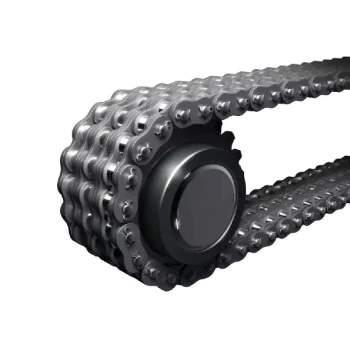 What are the factors that affect the lifespan of a drive chain?
The lifespan of a drive chain can vary depending on several factors. Here is a detailed explanation of the factors that can affect the lifespan of a drive chain:
Maintenance: Regular and proper maintenance is crucial for maximizing the lifespan of a drive chain. This includes routine inspection, cleaning, lubrication, and tension adjustment. Neglecting maintenance can lead to accelerated wear, corrosion, and potential chain failure.
Lubrication: Proper lubrication is essential for reducing friction, wear, and corrosion within the chain. Inadequate or improper lubrication can cause premature wear, increased friction, and accelerated chain elongation, decreasing the lifespan of the chain.
Environmental Conditions: The operating environment can significantly impact the lifespan of a drive chain. Factors such as dust, dirt, moisture, temperature extremes, and exposure to chemicals or corrosive substances can contribute to accelerated wear and corrosion. Implementing appropriate measures to protect the chain and ensuring it is suitable for the specific environment can help prolong its lifespan.
Load and Tension: Operating a chain beyond its recommended load capacity or having improper tension can put excessive stress on the chain, leading to accelerated wear, fatigue, and potential failure. Maintaining the chain within the manufacturer's specified load and tension limits is important for extending its lifespan.
Alignment and Sprocket Condition: Misalignment between the sprockets and improper sprocket condition can cause uneven chain wear, increased friction, and premature failure. Ensuring proper alignment and regularly inspecting and maintaining the sprockets are essential for maximizing chain lifespan.
Chain Type and Quality: The type and quality of the chain can affect its lifespan. High-quality chains made from durable materials and designed for specific applications tend to have a longer lifespan compared to lower-quality or generic chains.
By addressing these factors and implementing proper maintenance practices, it is possible to extend the lifespan of a drive chain and ensure reliable and efficient power transmission in various applications.



editor by CX 2023-08-03