Product Description
Products Collection
Product Description
One of the most compelling benefits of our QLP inverted tooth chain is its versatility and incredible durability. Whether you need a light-duty conveying or heavy-duty power transmission chain, the chain can be customised to meet your needs.
The chain is also corrosion-resistant. This means it can be used in harsh environments without worrying about rust or other types of damage. Its unique tooth shape reduces noise and vibration.
When you need a specific design, we can provide customised solutions based on what you need. Whether you require specific features, plans, materials, or specifications, our team can work to ensure you get a chain that fully meets your needs.
Are you looking for other chains? 
Leave your message below, and feel free to contact us!
FAQ
Question 1: Are you a Manufacturer or a Trading Company?
Answer:
We are a 100% chain manufacturer with 23 years of experience
Question 2: What should I provide to get a quotation?
Answer:
1. Type of the chain (with photos if available)
2. Pitch of the chain
3. Width of the chain
4. Length and quantity of the chain
5. Other specific requirements
Question 3:
How long is your manufacturing and delivery time?
Answer: 
Products are usually finished in 2 weeks, depending on the type and quantity. Also, please get in touch with us to check the delivery time to your destination.
Question 4: How long is your guaranteed time?
Answer: 
We offer a three-year guarantee if you purchase chains and matched sprockets together.
If you need chains only, a one-year guarantee can also be confirmed.
Question 5: Trade terms and Payment terms?
Answer:
We accept EXW, FOB, DDU, Door to Door. Payment terms, such as T/T, L/C, and Western Union, are acceptable. We also provide the service of Online Trading in this B2B platform.
Company Profile
Shipping Cost:

Estimated freight per unit.





To be negotiated
| | |
| --- | --- |
| Standard or Nonstandard: | Standard |
| Application: | Textile Machinery, Garment Machinery, Conveyer Equipment, Packaging Machinery, Food Machinery, Marine, Mining Equipment, Agricultural Machinery, Car |
| Structure: | Tooth Chain |
Samples:

US$ 100/Meter

1 Meter(Min.Order)

|

Order Sample
Customization:

Available

|

Customized Request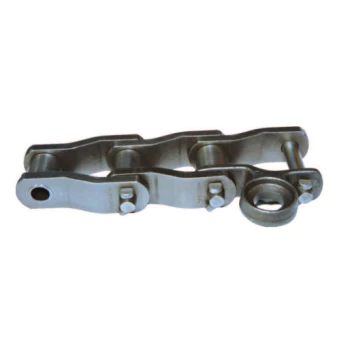 What are the benefits of using a maintenance-free drive chain?
Using a maintenance-free drive chain offers several advantages in applications where minimal maintenance and high reliability are desired. Here is a detailed explanation:
A maintenance-free drive chain, also known as a self-lubricating chain, is designed to operate without the need for regular lubrication or maintenance. The benefits of using such a chain include:
Reduced Downtime: Maintenance-free drive chains eliminate the need for regular lubrication and associated maintenance tasks. This saves time and reduces the frequency of equipment shutdowns for lubrication and maintenance, resulting in increased productivity and reduced downtime.
Lower Maintenance Costs: Maintenance-free chains require less maintenance, which leads to cost savings. There is no need for purchasing lubricants, scheduling routine maintenance, or performing frequent lubrication tasks. This can result in significant cost savings over the life of the chain.
Increased Reliability: Maintenance-free chains are designed to provide reliable and consistent performance over extended periods without the need for lubrication. They are constructed using self-lubricating materials or have built-in lubrication systems, ensuring optimal chain operation and minimizing the risk of chain failure due to inadequate lubrication.
Extended Service Life: Maintenance-free chains are often engineered with materials that exhibit excellent wear resistance and self-lubricating properties. This extends the chain's service life by reducing wear, elongation, and the need for frequent replacements. The chains maintain their performance characteristics even in demanding environments.
Cleaner Operation: Maintenance-free chains do not require external lubrication, which eliminates the risk of lubricant splatter or contamination. This is particularly beneficial in applications where cleanliness is essential, such as food processing, pharmaceuticals, or cleanroom environments. The absence of lubrication also reduces the attraction of dust or debris, contributing to cleaner and more reliable operation.
Environmentally Friendly: Maintenance-free chains can contribute to environmental sustainability. The elimination of routine lubrication reduces the consumption of lubricants and minimizes the release of lubricants into the environment. This aligns with eco-friendly practices and reduces the overall environmental impact of the equipment.
Application Versatility: Maintenance-free chains can be used in various industries and applications where minimal maintenance is desired or where lubrication is challenging or not feasible. They find applications in industries such as food processing, packaging, automation, automotive, and many others.
It is important to note that while maintenance-free chains offer many benefits, they still require regular inspection and occasional cleaning to ensure optimal performance and detect any abnormal wear or damage.
When selecting a maintenance-free chain, it is crucial to consider factors such as load capacity, speed, environmental conditions, and compatibility with the specific application requirements.
By utilizing maintenance-free drive chains, operators can benefit from reduced downtime, lower maintenance costs, increased reliability, extended service life, cleaner operation, environmental friendliness, and application versatility.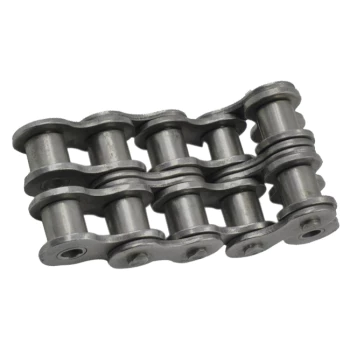 Can a drive chain be used in a printing or paper industry application?
Yes, a drive chain can be used in various applications within the printing and paper industry. Here is a detailed explanation:
The printing and paper industry requires reliable and precise power transmission solutions to operate machinery for tasks such as printing, cutting, folding, and conveying. Drive chains offer several advantages in these applications:
Precision and Accuracy: Drive chains provide accurate and repeatable power transmission, ensuring precise movement and control required in printing and paper industry applications.
High Load Capacity: Drive chains have high load-carrying capacity, making them suitable for conveying heavy rolls of paper, moving printing plates, or driving cutting and folding mechanisms.
Compact Design: Drive chains have a compact design, allowing them to fit in tight spaces and transmit power efficiently in confined areas commonly found in printing and paper machinery.
Reliability and Durability: Drive chains are known for their reliability and durability. They can withstand continuous operation, shock loads, and varying environmental conditions typically encountered in the printing and paper industry.
Customization and Adaptability: Drive chains offer flexibility and customization options to meet the specific needs of different printing and paper applications. They can be tailored in terms of size, pitch, attachments, and materials to accommodate various requirements.
Compatibility with Ancillary Devices: Drive chains can be easily integrated with other components commonly used in the printing and paper industry, such as tensioners, guides, sprockets, and bearings, to ensure optimal performance and reliability.
It is important to select the appropriate drive chain type, size, and material based on the specific requirements of the printing and paper application. Additionally, regular maintenance, including inspection, lubrication, and tension adjustment, is crucial to ensure optimal performance and longevity of the drive chain in these applications.
By leveraging the advantages of drive chains, the printing and paper industry can achieve efficient and reliable power transmission, enabling smooth operation and high-quality production.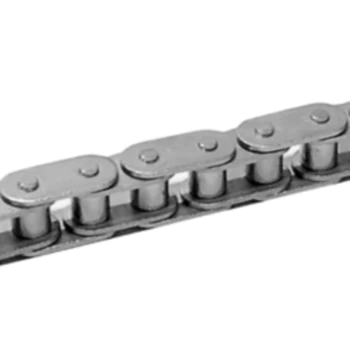 What are the common materials used in drive chains?
Drive chains are manufactured using different materials, chosen based on their specific properties and suitability for the intended application. Here are some common materials used in the production of drive chains:
Steel: Steel is the most widely used material for drive chains. It offers high strength, durability, and wear resistance. Different grades of steel, such as carbon steel, alloy steel, and stainless steel, are utilized based on the specific requirements of the application.
Plastic: In certain applications where corrosion resistance, low noise, or weight reduction are priorities, plastic chains are used. Plastic chains are lightweight, resistant to chemicals, and provide smooth operation.
Nickel-Plated: Nickel-plated chains offer enhanced corrosion resistance compared to standard steel chains. They are commonly used in applications exposed to moisture, humidity, or corrosive environments.
Coated: Coated chains are regular steel chains with an additional coating applied to the surface for improved protection against corrosion and wear. Common coatings include zinc plating, black oxide coating, or specialized coatings like Teflon®.
Heat-Treated: Heat-treated chains undergo a specialized heat treatment process to enhance their hardness, strength, and durability. Heat-treated chains are commonly used in heavy-duty applications that require high tensile strength and resistance to wear and fatigue.
Alloy: Alloy chains are made from steel that is alloyed with other elements like chromium, molybdenum, or nickel. These alloying elements enhance the chain's strength, toughness, and resistance to corrosion and wear.
The choice of material depends on factors such as the application requirements, operating conditions, load capacity, environmental factors, and budget constraints. It is essential to select a drive chain material that can withstand the specific demands of the application to ensure optimal performance and longevity.



editor by CX 2023-08-29