Product Description
Product Description
Product name: Roller Chain, chain, special chain
Material: 40Mn with heat-treated and with standard thickness for plates
We can supply all kinds indutrial roller chains for transmission, such as the DIN8187 or ANSI standard roller chains, and specialized in this line for more than 10years, with good quality and high reputation in our customers.
 
Product Attribute
Usage

Leaf Chain ,Flyer chain
 

Material

Alloy/Carbon Steel
 

Application industry
Metallurgy, coal, electricity, food, chemical industry, tobacco, beverage, etc
 

Surface Treatment

Self-color Sand-blasted Shot-peening
 
Product Series

 

AL,BL ,LL,FL,LH

Port

Any sea port or airport in China
 

Brand
TV OEM
Payment

L/C, T/T, D/P, Western Union
 

Package

Chain, Plastic Bag, Color Box, Wooden Case. or OEM
 

AL Series

AL322,AL344,AL422,AL444,AL466,AL522,AL534,AL544,AL566,AL622,AL644,AL666,AL688

AL822,AL844,AL866,AL888,AL1571,AL1044,AL1066,AL1088,AL1222,AL1244,AL1266,AL1288

AL1444,AL1466,AL1644,AL1666,AL1688
 

BL Series
BL422,BL423,BL434,BL444,BL446,BL488,BL522,BL523,BL534,BL544,BL546,BL566,BL588

BL622,BL623,BL634,BL644,BL646,BL688,BL822,BL823,BL834,BL844,BL846,BL866,BL888

BL1571,BL1571,BL1034,BL1044,BL1046,BL1088,BL1222,BL1223,BL1234,BL1244,BL1246

BL1266,BL1288,BL1422,BL1423,BL1434,BL1444,BL1446,BL1488,BL1622,BL1623,BL1634

BL1644,BL1646,BL1666,BL1888,BL2571,BL2571,BL2034,BL2044,BL2046,BL2088
 

LL Series
LL0622,LL0644,LL0666,LL0822,LL0844,LL0866,LL 0571 ,LL1571,LL1044,LL1066,LL1088,LL1222

LL1244,LL1266,LL1288,LL1622,LL1644,LL1666,LL1688,LL2571,LL2044,LL2066,LL2088,LL2422

LL2444,LL2466,LL2488,LL2822,LL2844,LL2866,LL2888,LL3222,LL3244,LL3266,LL3288,LL4571

LL4044,LL4066,LL4088,LL4822,LL4844,LL4866,LL4888
 

LH Series
LH0822,LH0823,LH571,LH0844,LH0846,LH0866,LH 0571 ,LH1571,LH1571,LH1034,LH1044

LH1046,LH1066,LH1088,LH1222,LH1223,LH1234,LH1244,LH1246,LH1266,LH1288,LH1622

LH1623,LH1634,LH1644,LH1646,LH1666,LH1688,LH2571,LH2571,LH2034,LH2044,LH2046

LH2066,LH2088,LH2422,LH2423,LH2434,LH2444,LH2446,LH2466,LH2488,LH2822,LH2823

LH2834,LH2844,LH2846,LH2866,LH2888,LH3222,LH3223,LH3234,LH3244,LH3246,LH3266

LH3288,LH4571,LH4571,LH4034,LH4044,LH4046,LH4066,LH4088
 

FL Series
FL644,FL666,FL688,FL523,FL844,FL922,FL944,FL945,FL956,FL966,FL988
 
We also carry out OEM according to your requirements
 
Detailed Photos
Product Parameters
Our Advantages
Company Advantages:
Own Import & Export License, The TV trade mark registered successfully in many countries, Sales network spread all over China, Products export to 65 countries in 5 continents.
Membership:
1. The member of China General Machine Components Industry Association.
2. The member of China Chain Transmission Association.
3. The member of China Chain Standardization Association.
4. The member of China Agricultural Association Machinery Manufacturers.
With our excellent trained staffs and workers, advanced and efficient equipments, completely sales network, strict QA systems. You are confidence that our premium qualified chain can meet all customers' specification and strictest quality standards.
Please do not hesitate to contact us for more information on how TransVision products can meet your industries demands at highly competitive pricing.
Quality First, Clients Uppermost.
Product Categories
 
Comprehensive Product Portfolio We produce and supply a wide range of power transmission
products including drive chains, leaf chains, conveyor chains, agricultural chains, sprockets, and
couplings. This one-store-for-all shopping experience will significantly reduce your searching costs while
guarantee youfind what you want at 1 click.
Value Choice Products Our products are the best combination of quality and price, and you get what
you want within your budgets
Seasoned Sales Associates and Engineers We have 15 seasoned sales associates and 5 engineers;
on our team at your disposal any time when you need a helping hand. They are well trained with industry
know-now and will always respond to your requests within 24 hours.
100% Customer Retention Rate Our regular customers from overseas come back not just for our
premium quality products, but for the superior services that we've provided over the years.
FAQ
Q1: What's your average lead time?
A: It varies. Our regular end-to-end lead time is 1-2 months.. We also provide express shipments for rush orders. For details,please consult our sales associate.

Q2: Is your price better than your competitors given the same quality?
A: Definitely YES. We provide the most competitive price in the power transmission industry. If price disparity exists, we'll be more than happy to do a price match.
Q3: Can you make chains according to my CAD drawings?
A: Yes. Besides the regular standard chains, we produce non-standard and custom-design products to meet the specific technical requirements. In reality, a sizable portion of our production capacity is assigned to make non-standard products.

Q4: Can we inspect the goods before shipment?
A: Yes. You or your representative or any third-party inspection party assigned is allowed access to our facility and do the inspection.

Q5: What kind of payment method is acceptable for your mill?
A: We're flexible. We take T/T, L/C, or any other online payment methods so long as it's applicable for you.

Q6: What if I have any other questions?
A: Whenever in doubt, you're always encouraged to consult our sales associate any time – They will help you to your satisfaction.
 
Shipping Cost:

Estimated freight per unit.





To be negotiated
| | |
| --- | --- |
| Usage: | Transmission Chain |
| Material: | Alloy/Carbon Steel |
| Surface Treatment: | Natural |
Customization:

Available

|

Customized Request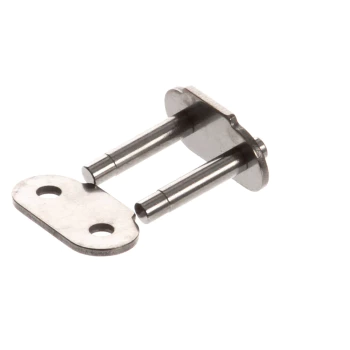 How does the lubrication method affect the performance of a drive chain?
The lubrication method used for a drive chain has a significant impact on its performance and longevity. Here is a detailed explanation:
Proper lubrication is essential for ensuring the smooth and efficient operation of a drive chain. It reduces friction, minimizes wear, and prevents corrosion between the chain's moving parts. The lubrication method chosen can affect the performance of the drive chain in the following ways:
Reduced Friction and Wear: Adequate lubrication forms a protective layer between the chain's moving parts, reducing metal-to-metal contact and minimizing friction. This helps to prevent excessive wear, elongation, and premature failure of the chain. The lubricant acts as a barrier, allowing the chain to operate with reduced resistance and improved efficiency.
Heat Dissipation: Proper lubrication helps dissipate heat generated by the friction between the chain's components during operation. This prevents overheating and the potential degradation of the lubricant, ensuring the chain can operate within its designed temperature range. Effective heat dissipation contributes to the longevity and optimal performance of the drive chain.
Protection against Corrosion: Lubrication provides a protective coating on the chain, safeguarding it against moisture, contaminants, and corrosive substances. This is particularly important in environments where the chain is exposed to water, chemicals, or harsh operating conditions. The lubricant prevents rust and corrosion, preserving the integrity of the chain and extending its service life.
Reduction of Noise and Vibration: Proper lubrication helps to reduce noise and vibration generated by the drive chain during operation. It acts as a damping agent, absorbing and minimizing the transmission of vibrations, resulting in smoother and quieter chain operation. This contributes to a more comfortable and productive working environment.
Selection of Lubricant: The choice of lubricant depends on various factors, including the application, operating conditions, temperature, speed, and load requirements. Different lubricants, such as oils, greases, or solid lubricants, may be suitable for different applications. The lubricant must be compatible with the chain material and should possess the necessary viscosity, temperature resistance, and lubricating properties to meet the specific demands of the drive chain.
Appropriate Lubrication Frequency: The lubrication method also includes determining the appropriate frequency for lubrication. Regular lubrication intervals must be established based on the chain's operating conditions and the manufacturer's recommendations. Insufficient lubrication or over-lubrication can both lead to performance issues, such as increased friction, poor lubricant distribution, or accelerated contamination buildup.
It is crucial to follow the manufacturer's guidelines and recommendations regarding lubrication methods, lubricant types, and lubrication intervals for the specific drive chain. Regular inspection and maintenance should be conducted to monitor the lubrication effectiveness and ensure proper lubricant replenishment.
By selecting the appropriate lubrication method and maintaining proper lubrication, operators can optimize the performance, reliability, and lifespan of the drive chain, contributing to smoother operation, reduced wear, and improved overall efficiency.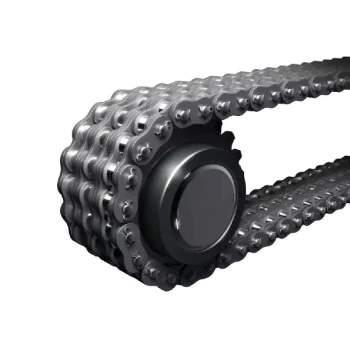 What are the factors that affect the lifespan of a drive chain?
The lifespan of a drive chain can vary depending on several factors. Here is a detailed explanation of the factors that can affect the lifespan of a drive chain:
Maintenance: Regular and proper maintenance is crucial for maximizing the lifespan of a drive chain. This includes routine inspection, cleaning, lubrication, and tension adjustment. Neglecting maintenance can lead to accelerated wear, corrosion, and potential chain failure.
Lubrication: Proper lubrication is essential for reducing friction, wear, and corrosion within the chain. Inadequate or improper lubrication can cause premature wear, increased friction, and accelerated chain elongation, decreasing the lifespan of the chain.
Environmental Conditions: The operating environment can significantly impact the lifespan of a drive chain. Factors such as dust, dirt, moisture, temperature extremes, and exposure to chemicals or corrosive substances can contribute to accelerated wear and corrosion. Implementing appropriate measures to protect the chain and ensuring it is suitable for the specific environment can help prolong its lifespan.
Load and Tension: Operating a chain beyond its recommended load capacity or having improper tension can put excessive stress on the chain, leading to accelerated wear, fatigue, and potential failure. Maintaining the chain within the manufacturer's specified load and tension limits is important for extending its lifespan.
Alignment and Sprocket Condition: Misalignment between the sprockets and improper sprocket condition can cause uneven chain wear, increased friction, and premature failure. Ensuring proper alignment and regularly inspecting and maintaining the sprockets are essential for maximizing chain lifespan.
Chain Type and Quality: The type and quality of the chain can affect its lifespan. High-quality chains made from durable materials and designed for specific applications tend to have a longer lifespan compared to lower-quality or generic chains.
By addressing these factors and implementing proper maintenance practices, it is possible to extend the lifespan of a drive chain and ensure reliable and efficient power transmission in various applications.



editor by CX 2023-09-20