Product Description
| | |
| --- | --- |
| 1)Type | roller chain |
| 2)Materials | steel: 40Mn(Plate) 30CrMnTi(Pin) 20Mn(Bush) Mn10(Roller) 65Mn(Clip) |
| 3)Chain No. | 420h/428h/520h/525h/530h |
| 4)Lifetime | 30000 KMs |
| 5)Function | transmission chain |
| 6)MOQ | 100meters |
| 7)Supply Ability | 100000 Meter/Meters per year |
| 8)Tensile Strength | standard |
| 9)Delivery Time | within 30 days after receiving your 30% deposits |
| 10)Payment Terms | 30%deposit and balanced by L/C,T/T |
| 11)Packing | chains packing in polybag and color box, also can packing as your requirement |
Our Services
Pre-sales:
1. OEM &ODM service
2. Any of your kind inquiry would be replied within 24 hours.
3. Complete product information will be offered
4. Free sample will be sent if you need .
5. Any other reasonable requirements as per requested
 
During production ,we provide:
1. Schedule of production
2. Mass production picture will offered
3. Any other reasonable requirements as per requested
 
Finish production:
1. Courier tracking number
2. Documents you need 
3. Protection of your sales area, ideas of design and all your private information.
FAQ:
Q1: Do you inspect the finished products?
A: Yes, each step of production and finished products will be carried out inspection by QC departing before shipping.
Q2: What's the warranty of your products?
A: Usually we guarantee one year after delivery date, but depending on the specified product.
Q3: Are you manufacturer or Trade Company?
A: Both we are. We have been in motorcycle parts for nearly 20 years.
Q4: How to visit factory?
A: Leave us a message, and we will pick you up by car for free.
Q5: Can you do custom logo on the chain?
A: Yes,we can do custom logos by molding. Need your Authorization Letter.
| | |
| --- | --- |
| Type: | Chain |
| Material: | Steel |
| Certification: | ISO9001:2001 |
| Number of Row: | Single Row |
| Surface Treatment: | Sand Blasting, Oiling |
| Transport Package: | Polybag + Color Box + Carton |
Samples:

US$ 0/Piece

1 Piece(Min.Order)

|
Request Sample
Customization:

Available

|

Customized Request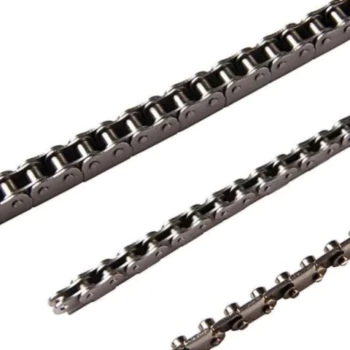 What are the advantages of using a lightweight drive chain?
Using a lightweight drive chain offers several advantages in certain applications where weight reduction is a critical factor. Here is a detailed explanation:
Lightweight drive chains are specifically designed to provide reliable power transmission while minimizing the overall weight of the system. The advantages of using such chains include:
Improved Energy Efficiency: Lightweight drive chains reduce the overall mass and inertia of the power transmission system. This results in improved energy efficiency, as less power is required to accelerate and decelerate the lighter components. Reduced energy consumption contributes to cost savings and promotes sustainability.
Enhanced System Performance: By reducing the weight of the drive chain, the overall system performance can be improved. The reduced mass allows for quicker response times, faster acceleration, and improved dynamic performance of the machinery or equipment. This can be particularly beneficial in applications that require rapid changes in speed or direction.
Increased Speed Capability: Lightweight drive chains enable higher speeds due to reduced inertia and decreased centrifugal forces. This allows for faster operation, quicker cycle times, and improved productivity in applications that demand high-speed power transmission.
Reduced Wear and Friction: The lighter weight of the drive chain can contribute to reduced wear and friction between the chain and the sprockets. With less weight bearing on the chain and sprocket teeth, there is reduced contact stress and improved lubrication distribution. This leads to lower frictional losses, decreased wear, and extended chain life.
Easier Installation and Maintenance: Lightweight drive chains are easier to handle and install compared to heavier chains, reducing the physical strain on operators during installation or maintenance tasks. The reduced weight simplifies handling and improves overall ergonomics, making it more convenient for operators to work with the chain.
Application Versatility: Lightweight drive chains can be used in a wide range of industries and applications where weight reduction is advantageous. They are commonly employed in sectors such as automotive, robotics, aerospace, and portable equipment, where lightweight components contribute to improved performance and fuel efficiency.
It is important to consider the specific requirements and constraints of the application when selecting a lightweight drive chain. Factors such as load capacity, speed capabilities, environmental conditions, and material selection should be taken into account.
While lightweight drive chains offer numerous benefits, it is crucial to ensure that their reduced weight does not compromise their load-carrying capacity or durability. Regular maintenance, including proper tensioning, lubrication, and periodic inspection, is essential to maintain the optimal performance and reliability of lightweight drive chains.
By utilizing lightweight drive chains in appropriate applications, operators can benefit from improved energy efficiency, enhanced system performance, increased speed capabilities, reduced wear and friction, easier installation and maintenance, and overall weight reduction, contributing to improved efficiency and performance of the power transmission system.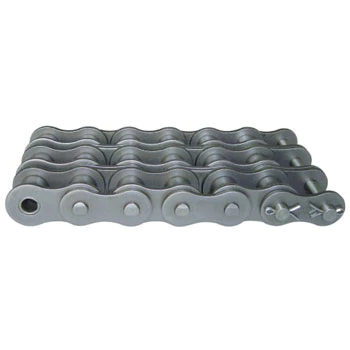 Can a drive chain be used in a robotics or automation application?
Yes, drive chains can be used in robotics or automation applications as a reliable and efficient method of power transmission. Here is a detailed explanation:
In robotics and automation, where precise and controlled movement is essential, drive chains offer several advantages:
Precision and Accuracy: Drive chains can provide accurate and repeatable positioning, making them suitable for applications that require precise movement and control.
High Torque Transfer: Drive chains are capable of handling high torque loads, allowing them to transmit power effectively in robotic and automation systems.
Efficient Power Transmission: Drive chains offer high efficiency in power transmission, minimizing energy loss during transfer and ensuring that the maximum amount of power is delivered to the intended components.
Flexibility and Customization: Drive chains provide flexibility in terms of design and customization. They can be adapted to various robotic and automation applications, accommodating different load requirements, configurations, and space constraints.
Compact Design: Drive chains have a compact design, which is beneficial in applications where space is limited. They can transmit power in tight or confined areas without compromising performance.
Reliability and Durability: Drive chains are known for their durability and ability to withstand demanding operating conditions. They are designed to endure continuous operation, shock loads, and varying environmental factors.
It's important to select the appropriate drive chain type, size, and material for the specific robotics or automation application. Additionally, regular maintenance, including inspection, lubrication, and tension adjustment, is crucial to ensure optimal performance and longevity of the drive chain in these applications.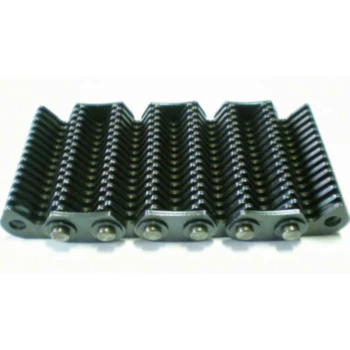 What are the signs of a worn-out drive chain?
A worn-out drive chain can significantly impact the performance and safety of a machine or system. It is important to recognize the signs of a worn-out drive chain to address the issue promptly. Here are some common signs to look out for:
1. Chain Elongation: Excessive chain elongation is a clear indication of wear. You can measure chain elongation by comparing the current chain length to its original length. If the chain has elongated beyond the manufacturer's recommended limit, it is a sign of wear and requires replacement.
2. Visible Signs of Wear: Inspect the drive chain for visible signs of wear, such as worn-out or distorted chain links, rollers, or plates. Look for signs of corrosion, pitting, or discoloration, indicating the chain's deterioration.
3. Chain Slack: Excessive chain slack, where the chain visibly sags or has too much play, is an indicator of wear. A properly tensioned chain should have a minimal amount of slack, and excessive slack suggests elongation and a need for replacement.
4. Noise and Vibration: A worn-out drive chain often produces increased noise and vibration during operation. If you notice unusual rattling, clanking, or grinding sounds, or if you feel excessive vibrations, it may be a sign of a worn chain.
5. Poor Power Transmission: A worn-out chain may struggle to efficiently transfer power, resulting in reduced performance and power loss. You may experience a decrease in acceleration, sluggishness, or difficulty maintaining consistent speed.
6. Poor Gear Shifting: In applications where the drive chain is connected to gears, a worn chain can cause difficulties in gear shifting, resulting in jerky or unreliable gear changes.
7. Increased Chain Tension: As a chain wears, it may require frequent tension adjustments to maintain proper alignment and operation. If you find yourself frequently adjusting the chain tension, it may be a sign of wear.
If you observe any of these signs, it is recommended to replace the worn-out drive chain promptly to avoid further damage and ensure the safe and efficient operation of the machinery.



editor by CX 2023-10-11