Product Description
Product Description
Roller chain on various machine equipment, welded steel mill chain, welded steel drag chain, cast fixed pin chain, pintle chain, drop forged link chain and Engineer Class Driving Chain, with alloy steel and stainless steel selection according to your requirement
1, Chain types: agricultural chain, drop forged rivetless chain, Roller Chain, conveyor chain, sugar industry chain, palm oil industry chain, asphalt industry chain,elevator conveyor industry chain, double flex chain, pintle chain, weld steel drag chains, malleable chain etc;
2, Main materials: It is 40Mn. 40Cr, 45Mn alloy steel or SUS304 for plates, 10#, 20#, 20CrMnMo, 30CrMnTi for pins and rollers;
3, Heat treatment: Carburizing, Austemper Stressing, nitro-caburizing harden etc;
4, Surface: Shot peening, black, blue or original;
5, Package way: Plastic bag+ carton box+ plywood case
Detailed Photos
Product Parameters
Packaging & Shipping
1. Inner packing: Poly bag, air bubble bag, carton according to buyer's request.
2. Outer packing: OSB case or pallet.
3. Please remember to leave the correct contact ADDRESS information for delivery.
Our Advantages
Company Profile
We are a leading manufacturer of mechanical transmission spare parts, as well as several years 1 of reliable and trustworthy vendors. Our main items are roller chain, conveyor chain, agricultural chain, sugar industry chain, palm oil industry chain, asphalt industry chain,elevator conveyor industry chain etc.
At present, For South American, European, and Asian market, our superior products are fabricated according to your requirement and our quality meets ISO, ASME, DIN standard.
Please watch our process steps as below
(1) punch its outer plate and inner plates
(2)Shot peening workshop
(3) heat treatment workshop
(4) assembly preparation
(5) pins process
(6) Tensile Properties Test before shipment
After Sales Service
Our products can be repaired or replaced the new parts with free cost in 3 months.
FAQ
Question:
1.Q:How about mould cost?
A: primarily depend on : 1.Drawing, 2.material, 3.weight and quantity.
We need to know the structure of each parts to analyze the mold solution by:
1) –Complete design drawing, product model or actual sample —– the best way
–PDF drawing with complete dimension for each parts
–Clearly photos for each parts with more angle-views to show every features.
2)The materials, technical parameters and surface treatments.
technical parameters: tell us about its model, pitch, roller diameter, width between inner plates, attachment type, outside drawing etc.
3)The quantity of order.
2.Q:How to control the product processing?
A: The processing report or pictures will be sent to the customer every week/ each month for review.
3.Q:Who will own the mould?
A:Customer, also the mould can be kept in our factory for future order.
4.Q:How long do you make your quotation?
A:After receiving detail informations we will quote in 1 to 3 days.
5.Q: MOQ? —
small chain type: if its pitch is less than 38.10mm and its thickness is less than 5mm, MOQ is 1500 CZPT on these roller chains or conveyor chains;
middle chain type: MOQ is 1000 CZPT on these roller chains or conveyor chains;
big chain type: if its pitch is more than 76.20mm and its thickness is more than 10mm, MOQ is 200 CZPT on these roller chains or conveyor chains;
I hope we can do business together, and look CZPT to hearing from you soon
 
| | |
| --- | --- |
| Standard or Nonstandard: | Standard |
| Application: | Conveyer Equipment, Packaging Machinery, Food Machinery, Mining Equipment, Agricultural Machinery |
| Surface Treatment: | Shot Peening |
| Structure: | Roller Chain |
| Material: | Alloy Steel |
| Type: | Short Pitch Chain |
Samples:

US$ 7.6/Meter

1 Meter(Min.Order)

|
Request Sample
Customization:

Available

|

Customized Request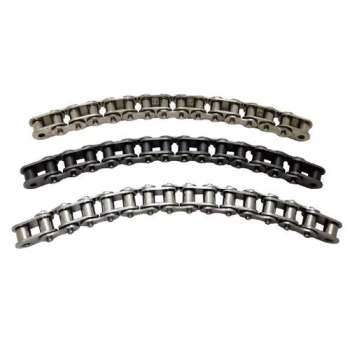 How does the lubricant selection affect the performance of a drive chain?
The selection of the proper lubricant plays a critical role in the performance and longevity of a drive chain. Here is a detailed explanation:
Lubrication is essential for maintaining the smooth operation and reducing the wear and friction between the chain's moving parts. The lubricant creates a protective film that reduces metal-to-metal contact and prevents excessive heat generation. The lubricant selection affects the drive chain's performance in the following ways:
Reduced Friction and Wear: The primary function of lubrication is to reduce friction between the chain's components. A well-chosen lubricant minimizes metal-to-metal contact, reducing wear and extending the chain's lifespan. It helps to prevent premature failure and ensures the efficient transfer of power throughout the chain.
Enhanced Load Capacity: Proper lubrication reduces the stress on the chain by creating a lubricating film that cushions the contact between the pins, bushings, and rollers. This improves the chain's load-carrying capacity, allowing it to handle heavier loads and resist elongation or deformation under high loads.
Corrosion Protection: Some lubricants are formulated with additives that provide corrosion protection. These lubricants create a barrier that shields the chain from moisture, chemicals, and environmental contaminants, reducing the risk of corrosion and extending the chain's life in harsh or corrosive environments.
Temperature Stability: Different lubricants have varying temperature ranges in which they can effectively perform. The lubricant selection should consider the operating temperatures of the application. High-temperature lubricants are designed to withstand elevated temperatures without breaking down or evaporating, ensuring proper lubrication even in hot environments.
Reduced Noise and Vibration: Proper lubrication contributes to smoother and quieter chain operation. It helps to minimize noise and vibration caused by metal-to-metal contact, resulting in a quieter working environment and improved operator comfort.
Contamination Control: Lubricants can also play a role in controlling contaminants that may enter the chain system. Some lubricants have properties that resist the accumulation of dust, dirt, or other particles, helping to keep the chain clean and preventing abrasive wear.
The lubricant selection should consider various factors, including the application's operating conditions, load requirements, temperature range, speed, and compatibility with the chain material. Manufacturers often provide lubrication recommendations based on these factors.
Regular lubrication maintenance is essential to ensure the continued performance of the drive chain. Lubrication intervals should be followed, and the lubricant should be replenished or replaced as recommended by the manufacturer or based on inspection and monitoring of the chain's condition.
By selecting the appropriate lubricant and implementing proper lubrication practices, operators can ensure optimal chain performance, reduce wear and friction, extend chain life, and minimize maintenance requirements in various industrial applications.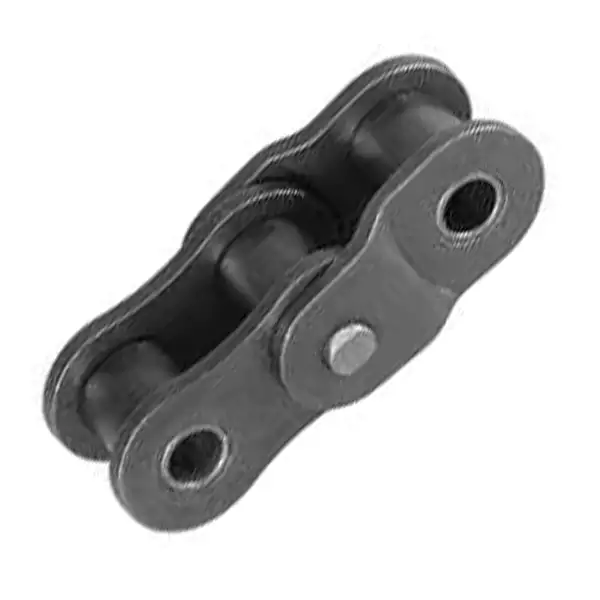 Can a drive chain be used in an escalator or elevator system?
Yes, a drive chain can be used in certain types of escalator or elevator systems as a method of power transmission. Here is a detailed explanation:
In escalator and elevator systems, the purpose of the drive chain is to transmit power from the motor to the moving steps or elevator car. While other power transmission methods, such as belts or gears, are commonly used in modern escalators and elevators, drive chains can still be found in certain applications:
Escalator Systems: In older or traditional escalator systems, drive chains are commonly used to transmit power from the main drive motor to the step chains. The step chains engage with the steps, causing them to move in a continuous loop. The drive chain ensures synchronized movement and reliable power transmission.
Elevator Systems: In some elevator systems, particularly older hydraulic or traction types, drive chains can be used as part of the power transmission mechanism. These chains transmit power from the motor to the elevator car or counterweight, enabling vertical movement.
It is important to note that the design and configuration of escalators and elevators can vary depending on factors such as capacity, speed, height, and building regulations. Modern escalators and elevators often employ more advanced and efficient power transmission methods, such as belts or gears, which offer advantages in terms of noise, efficiency, and maintenance. However, in certain cases, drive chains may still be used, especially in older systems or specific applications.
It is essential to consult with escalator or elevator manufacturers, experts, or maintenance technicians to determine the appropriate power transmission method for a particular escalator or elevator system. They can provide guidance on chain selection, maintenance requirements, and compliance with safety standards to ensure optimal performance and reliability.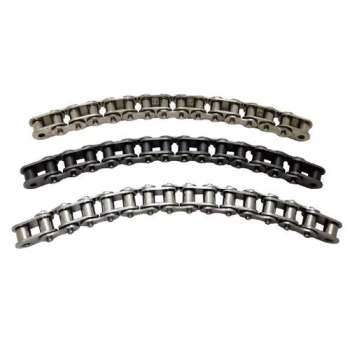 Are there different standards or certifications for drive chains?
Yes, there are different standards and certifications that apply to drive chains to ensure their quality, performance, and compatibility with specific industries or applications. Here's an explanation:
Drive chains may adhere to various standards and certifications, depending on the region and specific requirements. Some common standards and certifications for drive chains include:
1. ISO Standards: The International Organization for Standardization (ISO) has developed several standards related to drive chains. ISO 606 specifies the dimensions and mechanical requirements for roller chains, while ISO 10823 provides guidelines for determining the fatigue strength of roller chains.
2. ANSI Standards: The American National Standards Institute (ANSI) has established standards for drive chains, such as ANSI B29.1 for roller chains and ANSI B29.2 for double pitch roller chains. These standards cover dimensions, design, and performance requirements for various types and sizes of chains.
3. DIN Standards: The Deutsches Institut für Normung (DIN) has developed standards for drive chains commonly used in Germany and European markets. DIN 8187 covers roller chains, while DIN 8181 specifies leaf chains.
4. JIS Standards: The Japanese Industrial Standards (JIS) have their own set of standards for drive chains. JIS B1801 covers roller chains, JIS B1802 specifies leaf chains, and JIS B1803 provides guidelines for silent chains.
5. Industry-Specific Standards: Certain industries, such as automotive or agricultural, may have specific standards or certifications for drive chains. For example, the Automotive Industry Action Group (AIAG) in the automotive sector may have guidelines or requirements for drive chains used in automobiles.
When selecting a drive chain, it is important to consider the relevant standards and certifications that apply to your industry or application. Adhering to these standards ensures that the drive chain meets the required quality, performance, and safety standards for the intended use.



editor by CX 2023-08-22