Product Description
We specialize in the chains made to customers' drawings and specification. Our advantage is reliable quality, competitive price, prompt delivery and good service.
Standard products include various transmission and conveyor chains, like Roller Chain, double pitch Conveyor Chain, Hollow Pin Chain, Leaf Chain, Table Top Chain, Side Bow Chain, Lumber Chain, Agriculture Chain, Silent Chain, PIV Chain, Stainless Steel Chain, Nickel/ Zinc plated Chain, Dacromet Chain, Engineering Chain, Steel Pintle Chain, Welded steel chain, Forged chain, Malleable Iron chain, and many other types. Different kinds of attachment are available.
Product Description
Specifications:
1) Attachments on 1 side
2) Attachments on inner plates
3) Attachments on outer plates
4) Attachments on both sides
5) Straight attachments
6) Crank attachments
7) Pin attachments
8) Other special attachments
Transmission chain is famous for its high strength and continuous antifatigue; The chain dimensions fully meet the standards of ANSI and BS.
According to varied working conditions, it may choose the chain with different coating treatment, such as zinc plating, nickel plating, chromeplating and dacromet plating ec
Product Description
25-1 to 240-1
25-2 to 240-2
25-3 to 240-3
04BB-1 to 72B-1
04B-2 to 72B-2
04B-3 to 72B-3
We supply varied kinds of roller chains, conveyor chains, transmission chains and agricultural chains etc. According drawings.
Features:
1) A series chains:
A) Simplex: 25-1 – 240-1
B) Duplex: 25-2 – 240-2
C) Triplex: 25-3 – 240-3
2) B series chains:
A) Simplex: 04B-1 – 72B-1
B) Duplex: 05B-2 – 72B-2
C) Triplex: 05B-3 – 72B-3
3) Materials: Stainless steel or carbon steel
4) Other chains available: Heavy-duty series roller chains, cottered type short pitch precision roller chains (A series), heavy duty series cottered type roller chains, other simplex roller chains, zinc plated chains, dacromet plated chains, nickel plated chains, anti-side bow chains, side bow chains for pushing windows, side bow chains, side bow chains, self-lubrication roller chains, silent chains, self-tooth forming chains (P. I. V. Chains), heavy-duty cranked-link transmission chains, steel chains for sewage disposal, oil field chains, coupling chains, motorcycle chains, O-ring motorcycle chains, engine mechanism chain (timing chains), double pitch transmission chains and double pitch transmission chain attachments.
| | |
| --- | --- |
| Material: | Stainless Steel |
| Structure: | Roller Chain |
| Surface Treatment: | Polishing |
| Chain Size: | 1/2"*11/128" |
| Feature: | Antirust, Anticorrosion |
| Apply: | Conveyor Device |
Customization:

Available

|

Customized Request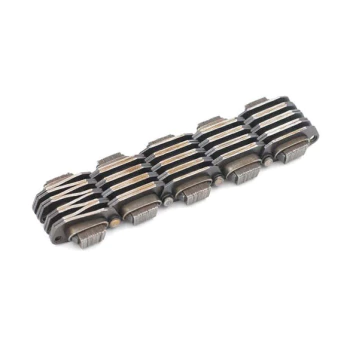 What are the benefits of using a corrosion-resistant coating on a drive chain?
A corrosion-resistant coating provides several benefits when applied to a drive chain. Here is a detailed explanation:
Drive chains used in various applications are often exposed to harsh environments that can lead to corrosion, including moisture, chemicals, contaminants, or high humidity. Applying a corrosion-resistant coating to the chain offers the following advantages:
Protection against Corrosion: The primary benefit of a corrosion-resistant coating is its ability to protect the chain from corrosive elements. The coating acts as a barrier, preventing moisture, chemicals, and other corrosive agents from reaching the chain's surface. This helps to inhibit or slow down the corrosion process, extending the chain's lifespan and reducing the risk of premature failure.
Enhanced Durability: By adding a corrosion-resistant coating, the drive chain's durability is significantly improved. The coating helps to prevent rust, oxidation, and degradation, thereby maintaining the chain's structural integrity and preserving its mechanical properties. This results in a longer service life and reduces the need for frequent chain replacements.
Reduced Maintenance Requirements: A corrosion-resistant coating reduces the maintenance efforts required to keep the chain in optimal condition. Since the coating provides a protective layer, there is less need for frequent lubrication or cleaning to combat corrosion. This leads to reduced maintenance costs and downtime, contributing to improved operational efficiency.
Compatibility with Harsh Environments: In applications where the chain is exposed to aggressive chemicals, high humidity, saltwater, or other corrosive substances, a corrosion-resistant coating is essential. The coating ensures the chain's reliability and performance even in demanding and challenging environments, such as marine, chemical processing, or outdoor applications.
Promotion of Cleanliness and Hygiene: Some corrosion-resistant coatings are designed to be smooth and easy to clean. This promotes cleanliness and hygiene in applications where cleanliness is critical, such as food processing, pharmaceuticals, or cleanroom environments. The coating prevents the accumulation of contaminants, making the chain easier to clean and maintain compliance with industry regulations.
Improved Aesthetics: A corrosion-resistant coating can enhance the visual appeal of the chain. It provides a clean and professional appearance, which is particularly important in applications where the chain is visible, such as in architectural designs or decorative installations.
It is important to note that the selection of a suitable corrosion-resistant coating should consider the specific application requirements, environmental conditions, and the compatibility of the coating with the chain material.
Regular inspection and proper maintenance practices, including periodic cleaning and lubrication, are still recommended to ensure the optimal performance and longevity of the drive chain, even with a corrosion-resistant coating.
By using a corrosion-resistant coating on a drive chain, operators can benefit from corrosion protection, enhanced durability, reduced maintenance requirements, compatibility with harsh environments, cleanliness, improved aesthetics, and ultimately, reliable and long-lasting chain performance.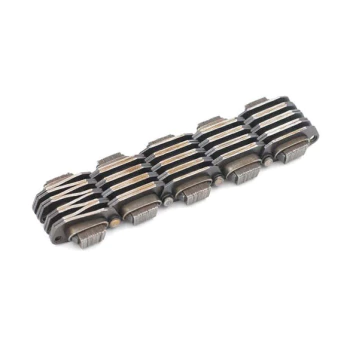 How does the efficiency of a drive chain compare to other power transmission systems?
The efficiency of a drive chain can vary depending on factors such as chain type, design, lubrication, and operating conditions. Here is a detailed explanation of how the efficiency of a drive chain compares to other power transmission systems:
High Efficiency: Drive chains are known for their high efficiency in power transmission. When properly lubricated and maintained, they can achieve efficiency levels of 95% or higher, which means that a minimal amount of power is lost during transmission.
Comparable to Other Systems: The efficiency of a drive chain is generally comparable to other common power transmission systems such as belt drives and gear drives. Each system has its own advantages and considerations, and their efficiencies can be similar when operating under optimal conditions.
Factors Affecting Efficiency: The efficiency of a drive chain can be influenced by several factors. These include the type and design of the chain, the condition of the sprockets, the level of lubrication, the alignment of the system, and the tension of the chain. Proper selection, installation, and maintenance play key roles in maximizing the efficiency of a drive chain.
Losses in Power Transmission: Despite their high efficiency, drive chains do experience some power losses during operation. These losses occur due to friction within the chain, sliding at the contact points between the chain and the sprockets, and other mechanical factors. However, these losses can be minimized through proper lubrication and tensioning of the chain.
In summary, drive chains offer high efficiency in power transmission, comparable to other common power transmission systems. By selecting the appropriate chain type, ensuring proper lubrication and maintenance, and optimizing the system's alignment and tension, the efficiency of a drive chain can be maximized, resulting in effective power transmission and minimal power losses.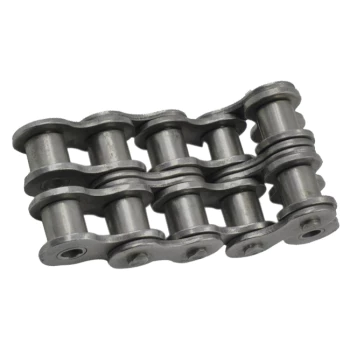 How does a drive chain differ from a timing belt?
A drive chain and a timing belt are both components used in power transmission, but they differ in their construction, operation, and application. Here are the key differences between a drive chain and a timing belt:
Construction: A drive chain consists of interconnected links or rollers, typically made of steel, that form a flexible mechanism. In contrast, a timing belt is a toothed belt made of a reinforced rubber material with teeth on the inner surface.
Power Transmission: Drive chains are commonly used for transmitting power in applications where flexibility and high-load capacity are required, such as in vehicles, machinery, and industrial equipment. Timing belts, on the other hand, are primarily used for precise synchronization of engine components, such as camshafts and crankshafts, in internal combustion engines.
Motion and Operation: Drive chains transfer power through rotational motion. The engagement of the chain links with sprockets allows for the transfer of rotational force. Timing belts, on the other hand, rely on the meshing of teeth on the belt with grooves or pulleys to ensure precise timing and synchronization of the engine's internal components.
Maintenance and Tension: Drive chains require periodic lubrication and tension adjustment to ensure proper operation and minimize wear. Timing belts, on the other hand, are typically maintenance-free and do not require lubrication or frequent tension adjustments.
Noise and Vibration: Drive chains, especially roller chains, can generate more noise and vibration during operation compared to timing belts, which are designed to operate with reduced noise and vibration.
Replacement: In case of damage or wear, drive chains can be repaired by replacing individual links or sections. Timing belts, on the other hand, usually require complete replacement as they are not easily repairable.
Ultimately, the choice between a drive chain and a timing belt depends on the specific application requirements, such as the need for power transmission, precision timing, load capacity, maintenance preferences, and operational conditions.



editor by CX 2023-10-19