Product Description
Product Name:

China Factory Custom High Strength Stainless Steel Conveyor Drag Drive Chains

Applicable Machining Process

CNC Machining/ Lathing/ Milling/ Turning/ Boring/ Drilling/ Tapping/
Broaching/Reaming /Grinding/Honing and etc.

Machining Tolerance

From 0.005mm-0.01mm-0.1mm

Machined Surface Quality

Ra 0.8-Ra3.2 according to customer requirement

Applicable Heat Treatment

T5~T6

MOQ for batch order

For cnc machining metal parts: 50 pcs

Lead Time

7-20 days for transmission parts harden teeth sprocket

Main Materials

Steel: carbon steel, alloy steel, stainless steel, 4140,20#,45# ,40Cr,20Cr ,etc

Aluminum: AL6061,AL6063,AL6082,AL7075,AL5052 etc.

Stainless steel: 201SS,301SS,304SS,316SS etc.

Brass: C37700,C28000, C11000,C36000 etc

Surface Treatment

Stainless Steel: Polishing, Passivating, Sandblasting, Laser engraving

Steel: Zinc plating, Oxide black, Nickel plating, Chrome platingk, Carburized, Powder Coated

Aluminum parts: Clear Anodized, Color Anodized, Sandblast Anodized, Chemical Film,Brushing,Polishing
Main Products
Products shown here are made to the requirements of specific customers and are illustrative of the types of manufacturing capabilities available within CZPT group of companies.
Please send us your detailed drawing/ sample/requirements for us offering a reasonable quotation to you and we will trying our best to make the goods in good quality and delivery in time .
MATECH policy is that none of these products will be sold to 3rd parties without written consent of the customers to whom the tooling, design and specifications belong.
Product ApplicationProduct Application
Main Facilities

Technical Support:
ZheJiang  Matech is professional at independent development and design. Our engineers are skilled at AUTO CAD, PRO ENGINEER, SOLID WORKS and other 2D & 3D softwares. We are able to design, develop,produce and deliver your PO according to your drawings, samples or just an idea. Dural control of standard products and OEM products.
Quality Control: 
1) Checking the raw material after they reach our factory——- Incoming quality control ( IQC) 
2) Checking the details before the production line operated 
3) Have full inspection and routing inspection during mass production—In process quality control(IPQC) 
4) Checking the goods after they are finished—- Final quality control(FQC) 
5) Checking the goods after they are finished—–Outgoing quality control(OQC)
Product Application
Our Factory
                       ZheJiang CZPT Machinery Manufacture Co., Ltd.
                                                   –Branch of CZPT Industry Ltd. 
We specialize in Metal Parts Solution for Vehicle, Agriculture machine, Construction Machine, transportation equipment, Valve and Pump system etc. 
With keeping manufacturing process design, quality plHangZhou, key manufacturing processes and final quality control in house.
We are mastering key competence to supply quality mechanical parts and assembly to our customers for both Chinese and Export Market .
To satisfy different mechanical and functional requirements from our customers we are making a big range of metal products for our clients on base of different blanks solutions and technologies.
These blanks solutions and technologies include processes of Iron Casting, Steel Casting, Stainless Steel Casting, Aluminum Casting and Forging. 
During the early involvement of the customer's design process, we are giving professional input to our customers in terms of process feasibility, cost reduction and function approach.
 
You are welcome to contact us for technical enquiry and business cooperation.
Our Certificate
Our company has strong R&D capability and develops many new products every year. In production, we strictly follow the ISO 9001 quality system to control quality and arrange production:
1. Don't accept defective, strict inspection of supplier's raw materials.
2. Don't manufacture defective, the production process is strictly controlled. For all products, the workers are strictly self-inspected on each machining process, and the quality inspectors do a regular inspection and spot inspection.
3. Don't transferring defective, the defective products found in the previous process shall never be allowed to be transferred to the next process. Before shipment, the finished products shall be inspected again, and if any quality problems are found,and the products shall be reworked or rejected according to the relevant requirement.
Our Customer
OurTeam

Our Advantage
 1.  we have developed a dedicated team ofpeople with a valued wealth of knowledgeand experience within the metals industry.No matter what your metal needs are, our team will provide you with individual customersupport and the best customer experience inthe industry.
 2.  We provide bespoke processing services to helpreduce our customers costs and manufacturingtimes. We can supply you with material cut andfinished to your specifications and productionready delivered.
 3.  Best serice: If you get any qustions, youcan contact with our customer sevice, we willreply you asap(within 24 hours).
Our Package 

Inner Packing →Strong & waterproof plastic big is packed inside, to keep the product in safe condition.
Or as customer requests.
Outer Packing →Multilayer wooden box with strong bandages, used for standard export package.
Or customized as per customer's requirements.
FAQ
1Q: Are you trading company or manufacturer?
A: We are a factory, so we can provide competitive price and fast delivery for you.
2Q: What kind of service can you provide?
A: Our company can provide custom casting, CNC machining and surface treatment according to customer's requirements.
3Q: What's kinds of information you need for a quote?
A: In order to quote for you earlier, please provide us the following information together with your inquiry.
1. Detailed drawings (STEP, CAD, CZPT Works, PROE, DXF and PDF)
2. Material requirement (SUS, SPCC, SECC, SGCC, Copper, AL, ETC.)
3. Surface treatment (powder coating, sand blasting, planting, polishing, oxidization, brushing, etc.)
4. Quantity (per order/ per month/ annual)
5. Any special demands or requirements, such as packing, labels, delivery, etc.
4Q: What shall we do if we do not have drawings?
A: Please send your sample to our factory, then we can copy or provide you better solutions. Please send us pictures or drafts with dimensions (Thickness, Length, Height, Width), CAD or 3D file will be made for you if placed order.
5Q: What makes you different from others?
A: 1. Our Excellent Service
We will submit the quotation in 48 hours if getting detailed information during working days.
2. Our quick manufacturing time
For Normal orders, we will promise to produce within 3 to 4 weeks.
As a factory, we can ensure the delivery time according to the formal contract.
6Q: Is it possible to know how are my products going on without visiting your company?
A: We will offer a detailed production schedule and send weekly reports with photos or videos which show the machining progress.
7Q: Can I have a trial order or samples only for several pieces?
A: As the product is customized and need to be produced, we will charge sample cost, but if the sample is not more expensive, we will refund the sample cost after you placed mass orders.
8Q: Why there is tooling cost?
A: It's mold cost. Indispensable production process. Only need to pay for first order, and we will bear maintenance cost of mold damage.
9Q: What is your terms of payment?
A: Payment of sample order ≤ 1000USD, 100% T/T full payment.
Payment of tooling or batch order ≥ 5000USD, 70% T/T in advance, balance before shipment.
10Q: What's your after-sale service?
A: If there is quality problem, please provide photos or test report, we will replace defective goods or return funds.
If you have any other questions please find us online, or send messages via email, WhatsApp for better communication!
| | |
| --- | --- |
| Material: | Stainless Steel |
| Structure: | Roller Chain, Leaf Chain, Drive Chain, Drag Chains |
| Surface Treatment: | as Client Required |
| Chain Size: | as Client Required |
| Feature: | Heat Resistant |
| Inspection Report: | Yes, Supplied |
Samples:

US$ 1/Piece

1 Piece(Min.Order)

|
Request Sample
Customization:

Available

|

Customized Request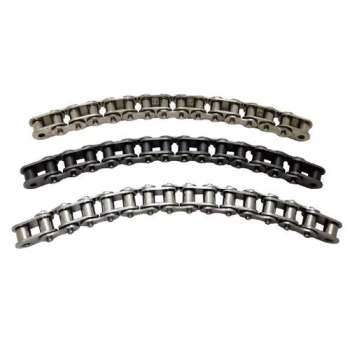 How does the lubricant selection affect the performance of a drive chain?
The selection of the proper lubricant plays a critical role in the performance and longevity of a drive chain. Here is a detailed explanation:
Lubrication is essential for maintaining the smooth operation and reducing the wear and friction between the chain's moving parts. The lubricant creates a protective film that reduces metal-to-metal contact and prevents excessive heat generation. The lubricant selection affects the drive chain's performance in the following ways:
Reduced Friction and Wear: The primary function of lubrication is to reduce friction between the chain's components. A well-chosen lubricant minimizes metal-to-metal contact, reducing wear and extending the chain's lifespan. It helps to prevent premature failure and ensures the efficient transfer of power throughout the chain.
Enhanced Load Capacity: Proper lubrication reduces the stress on the chain by creating a lubricating film that cushions the contact between the pins, bushings, and rollers. This improves the chain's load-carrying capacity, allowing it to handle heavier loads and resist elongation or deformation under high loads.
Corrosion Protection: Some lubricants are formulated with additives that provide corrosion protection. These lubricants create a barrier that shields the chain from moisture, chemicals, and environmental contaminants, reducing the risk of corrosion and extending the chain's life in harsh or corrosive environments.
Temperature Stability: Different lubricants have varying temperature ranges in which they can effectively perform. The lubricant selection should consider the operating temperatures of the application. High-temperature lubricants are designed to withstand elevated temperatures without breaking down or evaporating, ensuring proper lubrication even in hot environments.
Reduced Noise and Vibration: Proper lubrication contributes to smoother and quieter chain operation. It helps to minimize noise and vibration caused by metal-to-metal contact, resulting in a quieter working environment and improved operator comfort.
Contamination Control: Lubricants can also play a role in controlling contaminants that may enter the chain system. Some lubricants have properties that resist the accumulation of dust, dirt, or other particles, helping to keep the chain clean and preventing abrasive wear.
The lubricant selection should consider various factors, including the application's operating conditions, load requirements, temperature range, speed, and compatibility with the chain material. Manufacturers often provide lubrication recommendations based on these factors.
Regular lubrication maintenance is essential to ensure the continued performance of the drive chain. Lubrication intervals should be followed, and the lubricant should be replenished or replaced as recommended by the manufacturer or based on inspection and monitoring of the chain's condition.
By selecting the appropriate lubricant and implementing proper lubrication practices, operators can ensure optimal chain performance, reduce wear and friction, extend chain life, and minimize maintenance requirements in various industrial applications.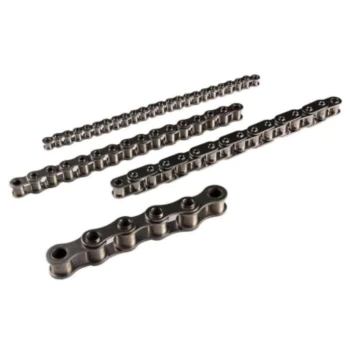 What are the benefits of using a silent drive chain?
Using a silent drive chain, also known as a noise-reduced or low-noise chain, offers several benefits compared to standard drive chains. Here is a detailed explanation of the benefits of using a silent drive chain:
Noise Reduction: The primary benefit of a silent drive chain is its ability to reduce noise during operation. Silent chains are designed with specialized features that minimize vibration and noise generation, resulting in quieter operation compared to standard chains. This is particularly advantageous in applications where noise reduction is critical, such as in residential areas, offices, or noise-sensitive environments.
Smooth Operation: Silent drive chains are engineered to provide smoother operation with reduced friction and vibration. This results in improved overall system performance, reduced wear on components, and enhanced efficiency.
Improved Performance: By reducing noise, vibration, and chain backlash, silent drive chains can help improve the performance and accuracy of the driven system. They minimize the risk of unwanted oscillations or inaccuracies, ensuring precise and reliable power transmission.
Extended Service Life: The reduced friction and vibration in a silent drive chain contribute to less wear and stress on the chain and associated components. This can result in an extended service life compared to standard chains, reducing the frequency of replacements and maintenance requirements.
High-Speed Capability: Silent drive chains are designed to operate at high speeds without compromising performance or generating excessive noise. This makes them suitable for applications that require high-speed power transmission, such as machinery, conveyors, or automation systems.
Reliability: Silent drive chains maintain the same reliability and durability as standard chains. They are designed to withstand demanding operating conditions, provide high load-carrying capacity, and resist wear, fatigue, and corrosion.
The use of silent drive chains is particularly beneficial in applications where noise reduction, smooth operation, precise control, and extended service life are important considerations. It is important to select the appropriate silent chain type, size, and material based on the specific application requirements for optimal performance and noise reduction.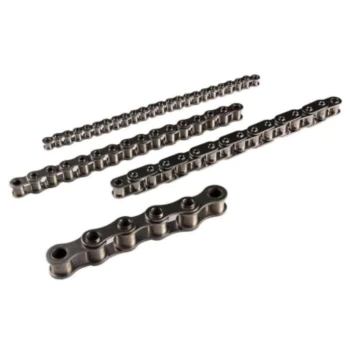 How do you inspect and maintain a drive chain?
To inspect and maintain a drive chain, follow these steps:
Regularly inspect the chain for signs of wear, damage, or elongation. Look for worn-out links, damaged rollers or plates, and signs of corrosion.
Clean the chain to remove dirt, debris, and any built-up lubricant. Use a suitable cleaning agent and a brush to carefully clean the chain, and ensure it is thoroughly dried before lubrication.
Check the tension of the chain to ensure it falls within the manufacturer's specified range. Adjust the tension if necessary, following the manufacturer's guidelines.
Inspect the alignment of the chain on the sprockets. Misalignment can cause uneven wear and decreased performance. Adjust the alignment if necessary, following the manufacturer's instructions.
Apply the recommended lubricant to the chain as per the manufacturer's guidelines. Proper lubrication reduces friction, minimizes wear, and prevents corrosion.
Periodically recheck the chain for any signs of wear, damage, or inadequate lubrication. Address any issues promptly through repairs or replacement of damaged components.
Monitor the chain's overall condition during operation. Pay attention to any unusual noise, vibrations, or changes in performance, as these can indicate potential issues with the chain.
Inspect the sprockets for signs of wear, such as worn teeth or excessive tooth profile deviation. Worn sprockets can accelerate chain wear and reduce overall performance.
Check the chain for proper lubrication. Ensure that the lubricant is evenly distributed along the entire length of the chain and that there are no dry or excessively lubricated areas.
Measure the chain's elongation using a chain wear gauge or by comparing its length to a new chain of the same pitch. Excessive elongation can lead to poor performance and should be addressed by replacing the chain.
Inspect the chain tensioners, guides, or tensioning systems (if applicable) for proper function and wear. These components help maintain proper tension and alignment of the chain.
Keep the chain free from dirt, debris, and contaminants that can accelerate wear and cause damage. Regularly clean the chain and its surrounding components using appropriate cleaning agents and methods.
Follow the manufacturer's recommended maintenance schedule for the specific chain type and application. This may include periodic lubrication, tension adjustment, and component replacement.
Keep accurate records of maintenance activities, including inspection dates, lubrication intervals, and any maintenance or repair actions taken. This helps track the chain's history and ensures proper maintenance over its lifespan.
Consult the manufacturer's guidelines and specifications for specific maintenance requirements and recommendations for the particular drive chain model and application.
By following these inspection and maintenance practices, you can ensure that the drive chain remains in good condition, performs optimally, and has an extended service life.



editor by CX 2023-07-26