Product Description
Product Description

Product Parameters
Standard
GB, ISO, ANSI, DIN
Type
Standard A and standard B precision roller chain, conveyor chain;
special chain with accessories, welding chain, leaf chain and sprocket
ANSI chain No.
40,50,60,80,100,120,140,160,180,200,240;
C40,C50,C60,C80,C100,C120,C140,C160;
DIN/ISO chain No.
08A,10A,12A,16A,20A,24A,28A,32A,36A,40A,48A;
C08A,C10A,C12A,C16A,C20A,C24A,C28A,C32A;
Application
Food processing, pharmaceutical and chemical industries, electronics, machinery;
household appliances, automotive manufacturing, metallurgy, sewage treatment
Series
A series,B series
More Products
Advantage
Certifications
DETAILS ABOUT CHINAMFG CHAIN 
Exhibition
Workshop
Application

Packaging Details
Shipping
FAQ
      
1. Are you manufacturer or trade Company?
We are a factory founded in 1997 with trade team for international service.
2. What terms of payment you usually use?
T/T 30% deposit and 70% against document, Western Union, L/C at sight
3. What is your lead time for your goods?
Normally 35 days after confirmed order. 30 days could be available in low season for some items (during May to July), and 45 days during new year and hot season ( Jan to March).
4. Samples
For customers who need sample confirmation before ordering, please bear in mind that the following policy will be adopted:
1) All samples are free of charge with the maximum value not exceeding USD 100.
2) The courier cost for the first-time sample sending will be charged for by the consignee. We will send the samples with freight to be collected. So please inform your account with FedEx, UPS, DHL or TNT so that we can proceed promptly.
3) The first-time courier cost will be totally deducted from the contract value of the trial cooperation.
| | |
| --- | --- |
| Usage: | Transmission Chain, Conveyor Chain |
| Material: | Stainless steel |
| Surface Treatment: | Polishing |
| Feature: | Heat Resistant |
| Chain Size: | 1/2"*3/32" |
| Structure: | Roller Chain |
Samples:

US$ 0/Piece

1 Piece(Min.Order)

|
Request Sample
Customization:

Available

|

Customized Request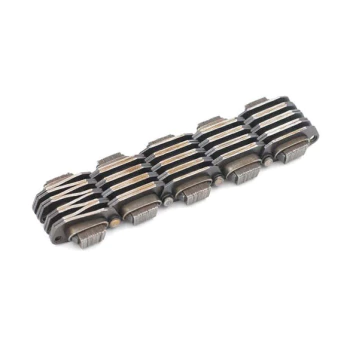 What are the benefits of using a corrosion-resistant coating on a drive chain?
A corrosion-resistant coating provides several benefits when applied to a drive chain. Here is a detailed explanation:
Drive chains used in various applications are often exposed to harsh environments that can lead to corrosion, including moisture, chemicals, contaminants, or high humidity. Applying a corrosion-resistant coating to the chain offers the following advantages:
Protection against Corrosion: The primary benefit of a corrosion-resistant coating is its ability to protect the chain from corrosive elements. The coating acts as a barrier, preventing moisture, chemicals, and other corrosive agents from reaching the chain's surface. This helps to inhibit or slow down the corrosion process, extending the chain's lifespan and reducing the risk of premature failure.
Enhanced Durability: By adding a corrosion-resistant coating, the drive chain's durability is significantly improved. The coating helps to prevent rust, oxidation, and degradation, thereby maintaining the chain's structural integrity and preserving its mechanical properties. This results in a longer service life and reduces the need for frequent chain replacements.
Reduced Maintenance Requirements: A corrosion-resistant coating reduces the maintenance efforts required to keep the chain in optimal condition. Since the coating provides a protective layer, there is less need for frequent lubrication or cleaning to combat corrosion. This leads to reduced maintenance costs and downtime, contributing to improved operational efficiency.
Compatibility with Harsh Environments: In applications where the chain is exposed to aggressive chemicals, high humidity, saltwater, or other corrosive substances, a corrosion-resistant coating is essential. The coating ensures the chain's reliability and performance even in demanding and challenging environments, such as marine, chemical processing, or outdoor applications.
Promotion of Cleanliness and Hygiene: Some corrosion-resistant coatings are designed to be smooth and easy to clean. This promotes cleanliness and hygiene in applications where cleanliness is critical, such as food processing, pharmaceuticals, or cleanroom environments. The coating prevents the accumulation of contaminants, making the chain easier to clean and maintain compliance with industry regulations.
Improved Aesthetics: A corrosion-resistant coating can enhance the visual appeal of the chain. It provides a clean and professional appearance, which is particularly important in applications where the chain is visible, such as in architectural designs or decorative installations.
It is important to note that the selection of a suitable corrosion-resistant coating should consider the specific application requirements, environmental conditions, and the compatibility of the coating with the chain material.
Regular inspection and proper maintenance practices, including periodic cleaning and lubrication, are still recommended to ensure the optimal performance and longevity of the drive chain, even with a corrosion-resistant coating.
By using a corrosion-resistant coating on a drive chain, operators can benefit from corrosion protection, enhanced durability, reduced maintenance requirements, compatibility with harsh environments, cleanliness, improved aesthetics, and ultimately, reliable and long-lasting chain performance.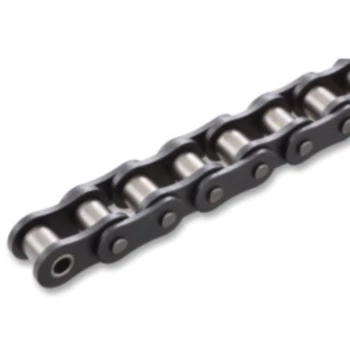 How does the backlash or play in a drive chain affect its performance?
The presence of backlash or play in a drive chain can have a significant impact on its performance and overall operation. Here is a detailed explanation:
Backlash or play refers to the small amount of free movement or clearance between the engaged components of a drive chain, typically between the chain and the sprockets. This clearance can lead to several performance-related issues:
Reduced Accuracy: Backlash can cause a loss of accuracy and precision in the positioning and movement of the driven components. The presence of free play can result in inconsistent positioning, leading to inaccuracies in machine operations or product quality.
Loss of Power and Efficiency: Backlash causes a loss of power transmission efficiency. As the chain engages with the sprockets, any free movement or clearance reduces the effective transfer of power, resulting in decreased efficiency and potential energy loss.
Vibration and Noise: Backlash can lead to vibration and noise during operation. The free movement of the chain can cause rattling, knocking, or banging sounds, as well as vibration, which can affect the overall system performance and operator comfort.
Potential for Chain Skipping or Jumping: Excessive backlash can cause the chain to skip or jump on the sprockets, leading to interrupted or irregular power transmission. This can result in sudden jerks, misalignment, or even chain derailment, affecting the overall system performance and potentially causing damage to the chain or other components.
Decreased System Response: Backlash affects the responsiveness of the system. When there is excessive play, the system may not respond quickly or accurately to changes in input or commands. This can be problematic in applications requiring precise and immediate movement or control.
To mitigate the negative effects of backlash, it is important to minimize or control the clearance within the drive chain system. This can be achieved through proper chain tensioning, sprocket alignment, and the use of anti-backlash devices or mechanisms.
Regular inspection and maintenance are crucial to identify and address any excessive backlash in the drive chain. Maintaining proper tension, lubrication, and periodically checking and adjusting the sprocket alignment can help minimize the backlash and ensure optimal chain performance.
It is essential to consult with the manufacturer's guidelines and recommendations for the specific drive chain system to determine the acceptable levels of backlash and the appropriate measures to reduce its impact on performance.
By minimizing backlash or play in a drive chain, operators can ensure accurate power transmission, improved efficiency, reduced noise, and vibration, ultimately leading to better overall system performance and productivity.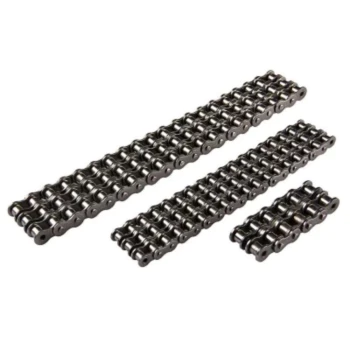 What are the noise and vibration levels associated with a drive chain?
The noise and vibration levels associated with a drive chain can vary depending on several factors, including the type of chain, operating conditions, and maintenance practices. Here's an explanation:
Noise Levels:
Drive chains, especially roller chains, can generate noise during operation. The noise level depends on various factors, such as the chain's design, speed, tension, lubrication, and the condition of the sprockets.
Proper lubrication helps reduce friction and noise generation, while inadequate or dry lubrication can increase noise levels.
Other factors, such as misalignment, worn-out components, or loose fittings, can contribute to increased noise levels. Regular inspections and maintenance help identify and address sources of excessive noise.
Vibration Levels:
Drive chains can produce vibrations during operation, especially if there are issues such as misalignment, improper tension, or worn-out components.
Proper tensioning, alignment, and maintenance practices help minimize vibrations and ensure smooth operation.
Excessive vibrations can lead to accelerated wear, reduced chain life, and potential damage to other components.
It's worth noting that advancements in chain design and manufacturing techniques have resulted in quieter and smoother-running chains. Manufacturers may also offer specialized low-noise or low-vibration chains for applications where noise or vibration reduction is a priority.
To maintain acceptable noise and vibration levels associated with a drive chain, it is important to follow proper maintenance practices, including regular lubrication, tension adjustment, and alignment checks. Additionally, addressing any sources of excessive noise or vibration promptly can help ensure the smooth and efficient operation of the drive chain.



editor by CX 2023-10-25