Product Description
Product

Standard Double Pitch Roller chain

Material

40Mn steel,304 stainless steel, 316 stainless steel and 201 stainless steel.

Types

Standard chains and special chains, such as A or B series chains, roller chains, driving chains, conveyor chains, hoisting chains, agricultural chains, sprockets, gears, wheels and so on.

Series

 A series(12.7-50.8mm pitches),B series (9.525-50.8mm pitches)and the heavy series.

Short pitch precision roller chain

Simplex Roller Chains&Bushing Chains: 

04C-1,06C-1,085-1,08A-1,10A-1,12A-1,16A-1,20A-1,24A-1,28A-1,32A-1,36A-1,40A-1,48A-1
Duplex Roller Chains&Bushing Chains:

04C-2,06C-2,085-2,08A-2,10A-2,12A-2,16A-2,20A-2,24A-2,28A-2,32A-2,36A-2,40A-2,48A-2
Triplex Roller Chains&Bushing Chains:

04C-3,06C-2,085-3,08A-3,10A-3,12A-3,16A-3,20A-3,24A-3,28A-3,32A-3,36A-3,40A-3,48A-3

Chain link type

Standard links (without attachment) and non-standard links (with attachment).

 

A1: One-side,one hole cranked attachments.
A2: One-side,two holes cranked attachments.
K1: Both-side,one hole cranked attachments.
K2: Both-side,two hole cranked attachments.
D1: One-side,an extended pin on every outer link.
D3: One-side,two extended pin on every outer link.

Our Products Advantage

1. Every step from production order to the packing process has a strict quality inspection.
2. We have standard roller chain with 1.5 CZPT (DIN. ANSI.); Non-standard roller chain (customized acording to customer drawings).
3. Export products with high quality and low price.
4.We have a good service before and after-sale.
1.Fast delivery: Standard products can be delivered in as fast as 20 days
2.Good service: timely reply, prompt quotation, responsible for the product
3.High cost performance: can maintain price stability for a certain period of time, bringing greater profits to customers
4.Good quality: production and testing have corresponding supervision to ensure product quality and get high praise from customers
5.OEM service: products can be customized according to drawings and requirements
We are responsible for the ordered products. We are very confident in the products we produce. Of course, if you have any problems after receiving the goods, you can contact us directly. We will confirm and negotiate in time to solve your difficulties.
| | |
| --- | --- |
| Standard or Nonstandard: | Standard |
| Application: | Textile Machinery, Garment Machinery, Conveyer Equipment, Packaging Machinery, Food Machinery, Mining Equipment, Agricultural Machinery |
| Surface Treatment: | Oil Blooming |
| Structure: | Roller Chain |
| Material: | Alloy |
| Type: | Double Pitch Chain |
Samples:

US$ 35/kg

1 kg(Min.Order)

|
Request Sample
Customization:

Available

|

Customized Request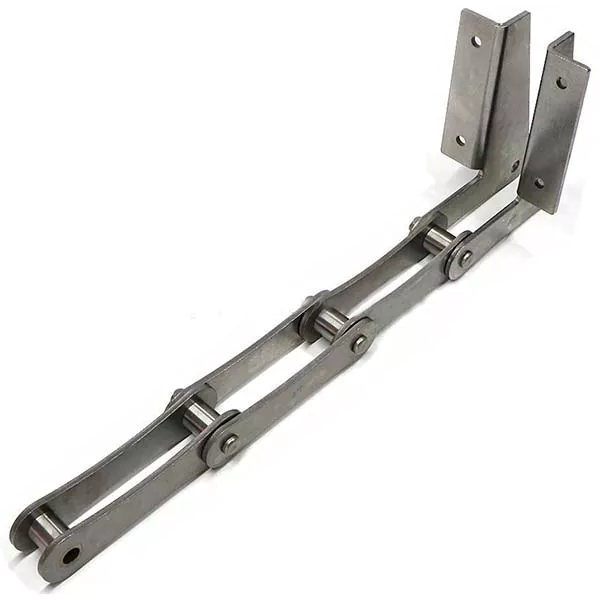 How does the design of a drive chain affect its efficiency and performance?
The design of a drive chain plays a crucial role in determining its efficiency and performance characteristics. Here is a detailed explanation:
The efficiency and performance of a drive chain are influenced by several design factors that are carefully considered during its development:
Chain Pitch and Size: The pitch and size of the chain links affect the load-carrying capacity, efficiency, and overall performance of the drive chain. A proper balance must be struck between chain size and strength to ensure optimal power transmission while minimizing friction and energy losses.
Roller Design: The shape and dimensions of the chain's rollers impact its efficiency and performance. Well-designed rollers reduce friction and wear by promoting smooth rolling motion between the chain and the sprocket teeth. They also contribute to improved power transmission and reduced noise levels.
Plate and Pin Design: The shape and material of the chain's plates and pins influence its strength, durability, and flexibility. Properly designed plates and pins ensure reliable power transmission, resistance to wear, and the ability to accommodate shock loads and varying torque conditions.
Sprocket Profile and Tooth Design: The design of the chain's sprockets is critical for efficient power transmission. Sprockets with accurately machined teeth and suitable profiles minimize friction, ensure proper engagement with the chain, and facilitate smooth chain articulation. Well-designed sprockets reduce wear, noise, and energy losses.
Lubrication Features: Drive chain design often incorporates lubrication features such as oiling holes or grooves to facilitate proper lubricant distribution along the chain's moving parts. Well-designed lubrication features ensure effective lubrication, reduce friction, prevent wear, and enhance the chain's overall efficiency and lifespan.
Material Selection: The choice of materials for the chain's components, such as the rollers, plates, pins, and bushings, significantly impacts its efficiency and performance. The selected materials must possess appropriate strength, wear resistance, and fatigue resistance to withstand the operating conditions and demands of the application.
Tensioning and Adjustment Mechanisms: Drive chain design often includes mechanisms for tensioning and adjusting the chain's tension. Properly designed tensioning systems ensure optimal chain tension throughout its operation, promoting efficient power transmission, reducing chain vibration, and extending the chain's service life.
A well-designed drive chain minimizes energy losses due to friction, reduces wear, and optimizes power transmission efficiency. It provides smooth and reliable operation, reduces noise levels, and contributes to the overall performance and longevity of the power transmission system.
It is important to note that drive chain design should consider the specific requirements and constraints of the application, including load capacity, speed, environmental conditions, and maintenance considerations. Regular inspection, lubrication, and proper tensioning are essential for maintaining the efficiency and performance of the drive chain over time.
By incorporating efficient design principles and considering the various factors that influence performance, manufacturers can produce drive chains that offer high efficiency, reliable power transmission, extended service life, and optimal performance in their intended applications.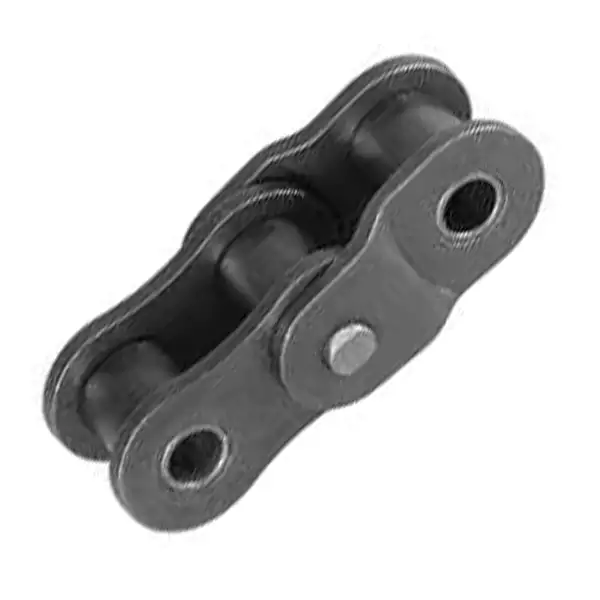 Can a drive chain be used in an escalator or elevator system?
Yes, a drive chain can be used in certain types of escalator or elevator systems as a method of power transmission. Here is a detailed explanation:
In escalator and elevator systems, the purpose of the drive chain is to transmit power from the motor to the moving steps or elevator car. While other power transmission methods, such as belts or gears, are commonly used in modern escalators and elevators, drive chains can still be found in certain applications:
Escalator Systems: In older or traditional escalator systems, drive chains are commonly used to transmit power from the main drive motor to the step chains. The step chains engage with the steps, causing them to move in a continuous loop. The drive chain ensures synchronized movement and reliable power transmission.
Elevator Systems: In some elevator systems, particularly older hydraulic or traction types, drive chains can be used as part of the power transmission mechanism. These chains transmit power from the motor to the elevator car or counterweight, enabling vertical movement.
It is important to note that the design and configuration of escalators and elevators can vary depending on factors such as capacity, speed, height, and building regulations. Modern escalators and elevators often employ more advanced and efficient power transmission methods, such as belts or gears, which offer advantages in terms of noise, efficiency, and maintenance. However, in certain cases, drive chains may still be used, especially in older systems or specific applications.
It is essential to consult with escalator or elevator manufacturers, experts, or maintenance technicians to determine the appropriate power transmission method for a particular escalator or elevator system. They can provide guidance on chain selection, maintenance requirements, and compliance with safety standards to ensure optimal performance and reliability.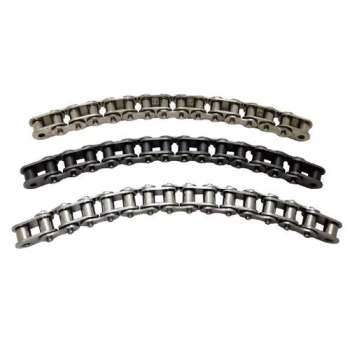 Are there different standards or certifications for drive chains?
Yes, there are different standards and certifications that apply to drive chains to ensure their quality, performance, and compatibility with specific industries or applications. Here's an explanation:
Drive chains may adhere to various standards and certifications, depending on the region and specific requirements. Some common standards and certifications for drive chains include:
1. ISO Standards: The International Organization for Standardization (ISO) has developed several standards related to drive chains. ISO 606 specifies the dimensions and mechanical requirements for roller chains, while ISO 10823 provides guidelines for determining the fatigue strength of roller chains.
2. ANSI Standards: The American National Standards Institute (ANSI) has established standards for drive chains, such as ANSI B29.1 for roller chains and ANSI B29.2 for double pitch roller chains. These standards cover dimensions, design, and performance requirements for various types and sizes of chains.
3. DIN Standards: The Deutsches Institut für Normung (DIN) has developed standards for drive chains commonly used in Germany and European markets. DIN 8187 covers roller chains, while DIN 8181 specifies leaf chains.
4. JIS Standards: The Japanese Industrial Standards (JIS) have their own set of standards for drive chains. JIS B1801 covers roller chains, JIS B1802 specifies leaf chains, and JIS B1803 provides guidelines for silent chains.
5. Industry-Specific Standards: Certain industries, such as automotive or agricultural, may have specific standards or certifications for drive chains. For example, the Automotive Industry Action Group (AIAG) in the automotive sector may have guidelines or requirements for drive chains used in automobiles.
When selecting a drive chain, it is important to consider the relevant standards and certifications that apply to your industry or application. Adhering to these standards ensures that the drive chain meets the required quality, performance, and safety standards for the intended use.



editor by CX 2023-09-06